Photo: Tim Severson
You'll need a HANS device to keep from hurting yourself trying to keep up with the latest Chris Paul rumors. Does he really want to force a trade to New York? Will he play out a full season and then sign there anyway? Will he go to the Lakers? Will he build a rocket ship and form his own league on the moon?
Turns out, the Hornets might not feel like waiting.
There is rising sentiment within the New Orleans Hornets' organization to trade Chris Paulbefore the 2011-12 season even starts if he hasn't signed an extension with the team by then, according to sources close to the situation.
[…] It has long been assumed around the league that keeping Paul made the league-owned Hornets more attractive to prospective buyers, but sources told ESPN.com on Monday that the Hornets believe that they will be more appealing to potential suitors if they can stabilize the organization by bringing a resolution to the Paul saga as soon as possible.
This, of course, comes with the caveat that the Hornets have to find a deal they like. Since Paul's perceived top destination, the Knicks, have almost nothing to trade for him, other suitors are stepping up.
The Los Angeles Clippers, Golden State Warriors, Houston Rockets and Atlanta Hawks have shown the most interest in trading for Paul, according to sources briefed on the talks. One source told ESPN.com that virtually every team in the league has called, including the Los Angeles Lakers, but the source echoed a Yahoo! Sports report from earlier Monday that the Hornets and Lakers have yet to seriously discuss specifics.
A few of us here at CC wouldn't be shocked to see CP3 tossing Blake Griffin alley oops, and the Clips do seem to have the most palatable offer. The Warriors and Rockets have some good young players the Hornets have expressed some interest in. And there is still the outside chance that teams like the Boston Celtics or Dallas Mavericks would be willing to rent Paul for a year without any long-term assurance he'll stick around.
There's even a growing effort in Orlando, where someone even put up a billboard calling for the Magic to trade for him.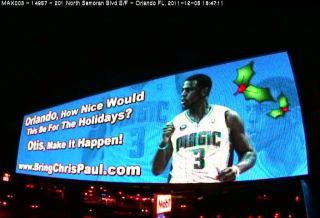 Via Magic Basketball online
It's starting to become clear that Chris Paul's time in New Orleans is coming to an end. I still maintain its probably better for them to squeeze more out of these teams by pushing it to the deadline, but the league-owned Hornets might not want to wait.