We've all heard about athletes with shoe addictions before, but it appears Atlanta Hawks guard Joe Johnson takes the cake.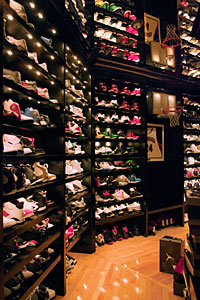 Not too long ago I saw a YouTube video of Spurs draftee Ryan Richards showing off his sneaker collection of about 60 pairs of shoes all stacked up and against a wall.
I consider myself to be a bit of a shoe junkie, with about 20 pairs of shoes lining the shelves of my closet, but my 20 and Richards' 60 pale in comparison to Johnson's collection.
And to display his 436 pairs of sneakers, neither a small closet or stacking them against a wall would suffice, so according to ESPN the Magazine, Johnson had a 500 square foot shoe "vault" constructed.
"I wanted to display all of my shoes, so I had this 500-square-foot closet made. I just thought this would be a cool idea, and it would almost look like a museum. I had a fingerprint sensor put on the door to make sure I'm the only one who can get in here. I mostly wear Air Jordans. All of the Jordan guys are selected by Michael Jordan himself. It's kind of hard to tell MJ no. I have 436 pairs of sneakers in here, and they're mostly unworn. I'll wear all of them eventually."
Let's think about this for a moment. 500 square feet? I've rented apartments that size before, and I've seen several studio apartments smaller than that. With that kind of space, I wonder if Johnson's shoe closet has it's own live-in shoe shine guy?
It's also interesting that while players are selling cars and signing contracts to play overseas to retain stability when they aren't receiving NBA checks, Johnson is constructing a shoe closet.
I guess Johnson signing an unthinkable six year contract worth $119 million last offseason gives him some added flexibility and let's face it, he probably had some cash burning a hole in his pocket that he just found a creative way to spend.
There was no report on whether Johnson let out a high-pitched scream when he walked into his shoe closet for the first time.