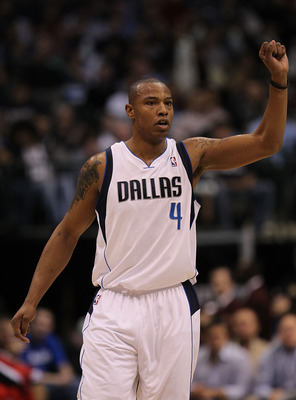 After the Dallas Mavericks won their first championship with third-leading scorer Caron Butler left chewing straws in street clothes on the sidelines, many felt Butler was expendable.
With Shawn Marion locked up for the next three years earning over $8 million per year, it looked like Butler was the odd-man out as he entered free agency after the lockout.
But that's not so, according to Jeff Caplan of ESPNDallas.com.
According to Caplan's report, Butler's agent Raymond Brothers said Mavericks President of Basketball Operations Donnie Nelson wants Butler to be a part of the team's long-term plans.
Nelson is prohibited from commenting on the matter. NBA clubs are prohibited from talking to or about players during the lockout, and all negotiations between teams and players and their representatives ceased on June 30.
"His preference is to stay with Dallas and help them compete for a championship," Brothers said. "We are optimistic and hopeful that we'll come to an agreement that works for both sides."
Butler has completely rehabbed from his knee injury. But in his case, the lockout may prove to work in his favor as it'll give him extra rehab time before signing what could be a multi-year contract with the Mavericks.
Aside from the extra rehab time, Butler is one of few NBA players who may have peace of mind during the lockout. Brothers spread Butler's salary over 12 months instead of just getting paid during the regular season.