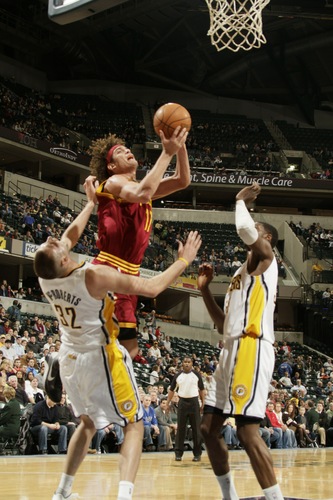 The NBA's new flopping policies appear to be working long before the season. A member of the "Flopper Hall of Fame" has submitted to its rule.
Anderson "Flopsy" Varejao will not flop this season. Of course, his definition of flopping might be different than ours. Varejao made his promise to Jodie Valade of Cleveland.com:
I'm not flopping anymore. I used to flop a little bit.
A little bit is an understatement as even Valade admits in her report. This appears to be the first sign that the NBA's announced policy penalizing flopping may actually work.
Last week, the NBA announced that the league would implement a policy to crack down on flopping. The league has suggested potentially fining players for egregious flopping. The enforcement issue and defining "what a flop is" may remain sticking points. But it had already struck fear into floppers like Varejao even before its official announcement.
The league announced Wednesday that flopping will be defined as: "any physical act that appears to have been intended to cause the referees to call a foul on another player." That could technically be a lot of things, even what we would not call flopping. The flops will be reviewed by video postgame and the league will assess fines beginning on the second offense. Players will receive a $30,000 fine for the fifth offense and could face a suspension or increased fine for every flop after that.
Determine what a flop is may still be quite the problem. But the NBA is working to rid its game of something that is perceived as a major problem.
Of course, the league has to be follow this policy too. Shane Battier told Tom Haberstroh of the Heat Index (h/t Henry Abbott of TrueHoop) that referees have told him in the past to sell contact to get calls:
The unfortunate thing about the block/charge [distinction] is that I've had many, many times where a ref told me that you have to go to the floor to get the call. By the letter of the law, I've taken a hit, but I've stood on my feet. Even though I've gotten nailed, the ref calls it a no-call. I say, 'Ref, what's wrong with that [charge]?' He says, 'You have to go down to get the call.'

Inherently, there's something wrong with that.
This puts a whole new twist on the flopping controversy. Undoubtedly floppers make the wild gesticulations and fall into a heap on the smallest contact to try and catch officials' attention. The referees, like any human, are more likely to call a foul when they see someone fall into a heap on the floor — especially if it is caught out of the corner of their eye rather than right in front of them.
The NBA is trying to strike a curious balance. One that is not so easy to define to begin with.
The league is trying though to fix something that is becoming a bigger problem as players try to take advantage of a grey area in the rules. It seems right now that even the threat of doing so has begun to effect a change.
This year, we will see if it works.