Andre Drummond disappointed in his only year at Connecticut. This was the most highly recruited center in the nation and even had himself reclassified so that he could play at Connecticut a year earlier.
This was a guy with the complete package.
Athleticism, size, a knack for scoring and those monstrous jams. All those adjectives typically used for a highly touted prospect followed him as he got set for his freshman year.
His lone year at Connecticut was a disaster.
Questions of his desire and effort dogged him. His numbers were not impressive at Connecticut either, as he averaged only 10.0 points per game and 7.6 rebounds per game in 28.4 minutes per game. It was not the one year Drummond wanted before he moved on to the NBA.
And those off-court problems dropped him from a sure-fire top-5 pick into someone in the middle or end of the lottery.
Some players though are meant to play in the NBA. The game just fits them better. And through the first quarter of the season Drummond has impressed many and made Detroit's pick of him worth it.
Even with Lawrence Frank bringing him along slowly by bringing him off the bench so he can learn behind a player like Greg Monroe, it is hard not to see the potential in Drummond. He has the tools to crack the starting lineup and be a contributor at the NBA level.
Through the first 26 games of his career, he is posting 6.5 points and 6.4 rebounds per game in 18.4 minutes per game. He has had a 22-point, 8-rebound effort at Oklahoma City and a 15-point, 12-rebound effort against Golden State, two pretty good teams (at least by record).
Consistency is the issue for the rookie, but his coaches and others certainly see something in him.
"I think each game is different. No different than any other guy," Pistons coach Lawrence Frank said in late November. "There are times when he is really sharp throughout. There are other times when he wasn't sharp initially and then bounced back with a better effort. Then there are other time when he was sharp early and maybe not as sharp late.
"I think the challenge will be for Andre as he gets more and more minutes is can he sustain it? What [his stats] don't take into account is the more minutes he plays, the great thing is if he can sustain that and be part of helping us continue to develop, then that's why everyone is encouraged."
Ultimately that becomes the question as Frank considers increasing Drummond's minutes and role.
What other coaches and scouts have seen from Drummond so far though tell you that they believe he can be a very special. Chad Ford of ESPN.com heaped some high praise on the rookie (h/t Vince Ellis of Detroit Free Press):
He has physical tools that very few NBA players have. For his size, he moves as well laterally as any big I've ever seen. The question, coming into the draft, was about his motor, his passion for the game and his poor production as a freshman at UConn. He's exceeded everyone's expectations in his rookie year. If he keeps up this learning curve, the Pistons will have one of the best frontcourts in the NBA in a couple of years.
Those questions will only dog him as long as he lets them. This season seems to be all about proving those doubts wrong and finding his niche in the NBA.
Again, Drummond is playing very well. His per 36 minute numbers read: 12. points and 12.5 rebounds per 36 minutes. As you might expect, his rebounding instincts are a bit ahead of his offensive skills. A normal progression for a player that is only 19 years old.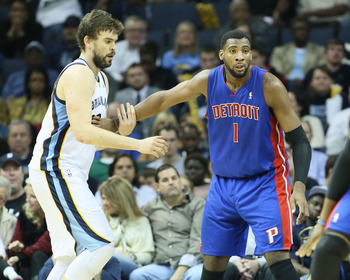 Drummond's offense is extremely limited still as 100 of his 126 field goal attempts have come at the rim according to Basketball-Reference. Again, things you would expect for a raw center prospect like Drummond.
The important part is that Drummond is hungering for more minutes and those focus concerns that dogged him coming out of Connecticut are feeding him in the pros as the Pistons look to get the most out of their prized draft pick and grow him along with Greg Monroe in the post.
With focus no longer being the concern, Drummond is doing what most rookies need to do — play and grow from his mistakes.
"Focus isn't a concern on our part," Frank said. "There are a lot of things to this game and, not necessarily from a focus standpoint, I think he's focused, it's understanding being able to react like that. That takes time.
"When you can't react like that, things get broken down on either end of the floor. Whether it's a pick and roll that goes real quick and you're late to recognize it or understand the coverage. Someone may not say that is not such a good thing, but for Andre we don't have any problems with his focus.
"It's going to come down to as he improves, like all players, the more he'll play."