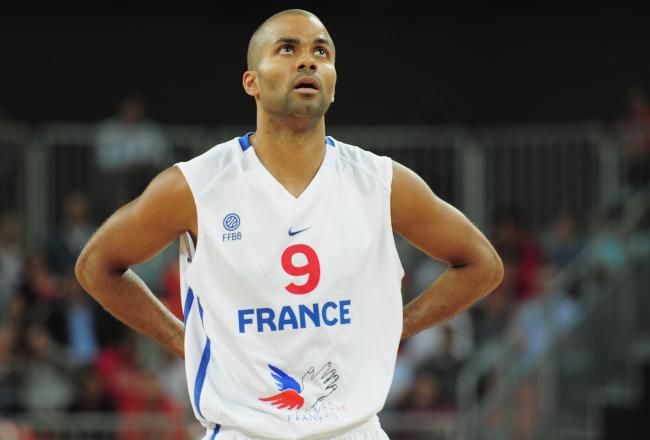 It is less than one month before the start of the 2012 Olympic games and many teams in the basketball tournament are finalizing their rosters.
Like Team U.S.A., Team France, considered one of the stronger teams heading into London, is also limping into the tournament and will not have a squad full of their best players.
Joakim Noah will not suit up for France (ankle injury), Mickael Pietrus underwent surgery and will not play, Ian Mahinmi won't play due to contract issues with the Mavs and Rodrigue Beaubois won't play as well due to the Mavs asking him not to participate due to nagging issues he dealt with during the past NBA season. To compound matters, their floor leader, Spurs' Tony Parker, was caught up in a brawl in New York City between pop stars Drake and Chris Brown which resulted in TP suffering a scratched cornea. As such, his playing status for France is in doubt.
However, the final French national team roster was released and Parker was listed despite no word yet on whether TP has been cleared to play (h/t Project Spurs).
Regardless, France's final roster is still packed with solid player but in the end, it may not be enough to challenge the top-two teams – Team U.S.A. and Team Spain.
Here is the final roster for France: Nicolas Batum, Yannick Bokolo, Fabien Causeur, Nando De Colo, Boris Diaw, Mickael Gelabale, Charles Kahudi, Tony Parker, Florent Pietrus, Kevin Séraphin, Ali Traore, and Ronny Turiaf.
A solid team it may be but it is still undersized to contend with the likes of the U.S., Brazil, and Spain. Without a fully loaded French team, it may be unlikely they will medal. Expect teams such as Argentina or Brazil to sneak into medal contention.
Also note, France won't have much depth at the point guard spot without Beaubois which will also hurt the team's shot at a medal.
UPDATE:
TP has been cleared to play at the Olympic Games for France after receiving clearance from Spurs' medical staff.