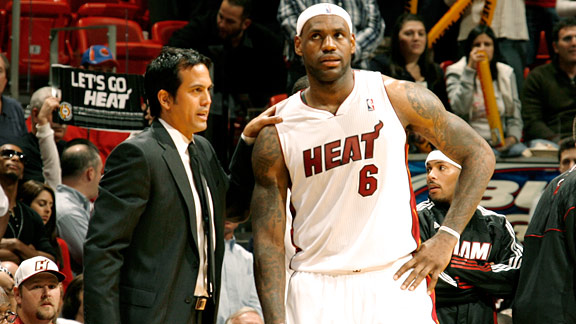 Erik Spoelstra spent time in Eugene, Ore., last summer trying to unlock secrets to Chip Kelly's fast-paced offense in football. Oregon has spent much of the last four years running a no-huddle, never-stop-coming-at-you offense that puts up points as quickly as they get off plays in a game and leaves defenses gasping for air.
Spoelstra wanted to bring some of that attitude to his team in Miami, a team that featured superstars like LeBron James and Dwyane Wade — two guys no defender wants to see coming at them at full speed.
The Heat came at opponents fast and furious last year, although maybe not at Oregon levels. Miami was 16th in the league in pace last year according to Basketball-Reference and 19th in the league in pace last year according to HoopData. Either way, Miami was surprisingly in the bottom half of the league when it came to pace despite the desire to run and get the ball moving down the court with all the athleticism the team already possesses.
With Miami seemingly embracing a smaller lineup after finding so much success against Oklahoma City in the Finals with LeBron James at power forward and Chris Bosh playing center, Spoelstra is doubling down on his speedy philosophy as he tells WQAM in Miami (h/t Ira Winderman of the South Florida Sun Sentinel):
"We turned it up a gear last year and I think we have the personnel to hopefully go even faster. And I think with a normal training camp and a full season, we can build that habit a little bit more."
That might scare several defensive masterminds in the NBA. The last two years, while the Heat have not been the fastest team in the league by pace, have been nightmares for defenses. Miami has put together stunning fast break plays and, again, no defender wants to see James or Wade bearing down on them at full speed. Those two players are simply unstoppable when they do that.
And this is why Spoelstra wants to see the Heat running.
Miami's half-court offense is still one of its weaknesses. LeBron James is a great playmaker, but not a full-time point guard creating for others. It is likely not the best way to use all his skills and talents.
A fast break offense might very well be the best way to maximize all the talent on the court. That is what many people envisioned for Miami when James and Bosh joined Wade. It has not quite happened yet, although the flashes of offensive brilliance on the break have been breath taking.
Considering again that Miami has an ever-aging roster — adding Ray Allen and Rashard Lewis is not going to make anybody want to run more — the team may not run as much as we envision. But just as Allen and Lewis are guys that may not be able to run as much as they used to, their 3-point shooting will make running a lot easier. It should also make the half court offense a lot easier.
The Heat continue to be an intriguing team. Their championship defense could be just as interesting as their rise to the top.
Images: Isaac Baldizon/Getty Images, losthatsports.com