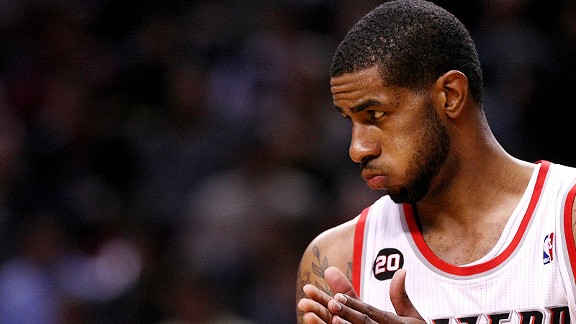 No one is going to blame LaMarcus Aldridge if he can't finish out the remaining eight games on the Portland Trail Blazers schedule. If anything, he might actually be applauded for the decision.
Because after everything else that has gone wrong for Portland this season, risking further damage to Aldridge's lingering right hip is the last stroke of bad luck this franchise needs right now.
In fact, the dreaded "S" word probably isn't too far down the road.
Could surgery be next for Aldridge if or when the Blazers decide to shut him down?
"My body is pretty beat up," Aldridge told The Oregonian. "I'm definitely not getting any better. But I haven't said anything about it."
On Tuesday, the Blazers said something about it.
They informed the media that Aldridge continues to experience soreness in his right hip and would travel (along with team trainer, Jay Jensen) to Vail, CO to meet with Dr. Marc Phillipon for further evaluation. This is now the third specialist Aldridge has met with to determine the cause and effect of the injury, and not only jeopardizes a swift end to his all-star season but whatever postseason hopes the Blazers continue to grasp on to.
The team is listing Aldridge as "questionable" for Wednesday's game at the Rose Garden against the Golden State Warriors.
They might as well go ahead and change his status to "shut down for the rest of the season".
Attempting to beat out Denver, Utah and Phoenix for the final playoff spot in the Western Conference is still the overall goal for the team, but getting there with a gimpy franchise player isn't the way to do it. This team isn't a title contender. Heck, they are barely mentioned in the postseason discussion out West and when they are it's typically in disbelief that the Blazers will finish on the outside looking in.
Acting GM Chad Buchanan said the team would consider shutting down Aldridge, who is averaging 21.7 points and 8 rebounds per game this season.
"We're going to keep the door open for that if that's what it comes to," Buchanan said of shutting Aldridge down.
"That is a possibility. I wouldn't rule it out. You hope it doesn't come to that, but it is a possibility depending on what the doctors feel."
An ailing Aldridge is just part of the banged-up Blazers injury troubles. Let's not even get started about Nicolas Batum, who is battling left quad tendinitis. Batum is another franchise player — or at least Portland hopes he will be come this offseason — who needs to throw in the towel. Time to rest up for Team France and the 2012 London Olympics.
Now back to the Aldridge hip surgery dilemma. That is the question Rip City should he most interested in.
If so, it would be the second time Aldridge has undergone hip surgery. The first came back during his freshman year at the University of Texas on his left hip.
Dr. Marc Phillipon is a renowned hip specialist with ties to the NBA, MLB, NFL and NHL. Last May, he performed hip surgery on Gerald Henderson of the Charlotte Bobcats. Henderson had successful surgery in Vail on his left hip to repair a torn labrum, was on crutches for eight weeks, and was out for about five months.
Phillipon also performed hip surgery on newest Blazer, Jonny Flynn in 2010. Then with Minnesota, Flynn had surgery in late July 2010 to fix a torn hip labrum, returned that December and missed a total of 29 games that season.
Is Aldridge a candidate for surgery?
Sadly enough, it may just come to that at some point if the pain continues.