"Imposing physical specimen who protects the basket…."
That was just one of the sentences used in an NBA scouting report to describe Hasheem Thatbeet's ability coming out of Connecticut back before the Memphis Grizzlies selected the 7-foot center as the second overall pick in the 2009 NBA Draft.
Now three years and four teams later, one word can be applied to Thabeet's lackluster NBA career thus far: potential.
After going from Memphis, to Houston and finishing the season in Portland last year, the Oklahoma City Thunder signed Thabeet to a bargain basement free agent deal where the front office and coaching staff are banking on this being the year Thabeet reaches his "potential" in the league.
Chosen between Blake Griffin of Oklahoma and James Harden of Arizona State in the '09 draft, that duo has flourished both in their respective team settings in Los Angeles and Oklahoma City, and also on an individual level as Team USA selections — and even a gold medal winner in Harden.
What does Thabeet have to show for the last three years? Try 2.2 points, 2.7 rebounds and 0.9 blocks in 10.3 minutes per game (135 career games).
That was then. Thabeet and the Thunder now move forward together hoping this time is different.
Every situation in the past doesn't really matter. The present is what I've got to face.

I've got to deal with what I can control, come in and work hard and just be a part of the team. It's another situation, so I've got to come in with a different mentality and be ready to work hard.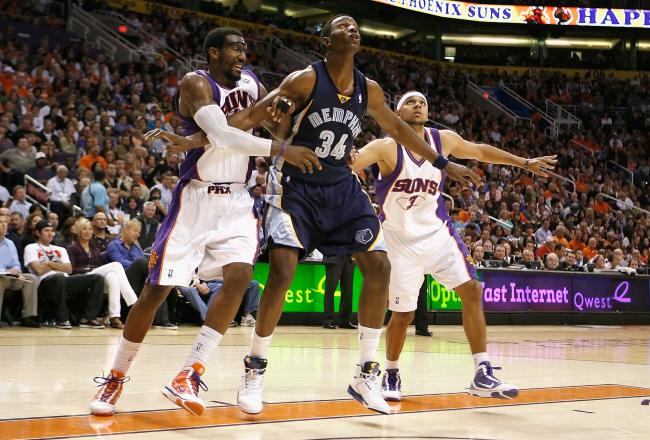 This offseason, Thabeet has been working out at the Thunder practice facility and even putting in work with both Cole Aldrich and Daniel Orton, who will battle along with Thabeet as the likely back-up center core behind Kendrick Perkins.
Right now, Oklahoma City is not sure what it will get out of Perkins who is coming off surgery to his groin and left wrist. But in the same light, the Thunder are still wondering too what they will get out of Thabeet. Memphis, Houston and Portland asked themselves that question repeatedly over the last three seasons.
Yet Oklahoma City actually has something those three teams did not: the potential to win an NBA Championship.
Knowing you can boast about Kevin Durant, Russell Westbrook and James Harden on the roster and on the floor, just might take some heat off of Thabeet to where he can adjust and find his role on the team versus coming straight out of college and viewed as being "the man".
"I'm happy with what I can do any time I step out there," Thabeet said. "I'm not worrying about anything I can't control. What I can control is to work hard, be a good teammate, listen to the coaches and come in ready to work."
It sounds like Thabeet is taking the right approach to another fresh start in OKC.
Images: Thunder Obsessed, Christian Peterson/Getty Images