Believe it or not, the NBA's regular season is three weeks away. To get you ready, Crossover Chronicles will be profiling a team each day for the next few weeks. This week is the Central Division. Today is the Milwaukee Bucks.
2011-12 Record: 31-35
Key Losses: Carlos Delfino (signed with Houston), Shaun Livingston (traded to Houston), Jon Leuer (traded to Houston)
Key Acquisitions: John Henson (draft), Doron Lamb (draft), Samuel Dalembert (traded from Houston)
Depth Chart
| | | | | |
| --- | --- | --- | --- | --- |
| PG | SG | SF | PF | C |
| Brandon Jennings | Monta Ellis | Luc Mbah a Moute | Ersan Ilyasova | Drew Gooden |
| Beno Udrih | Doron Lamb | Mike Dunleavy | John Henson | Samuel Dalembert |
| Marquis Daniels | Orien Greene | Tobias Harris | Larry Sanders | Ekpe Udoh |
The Good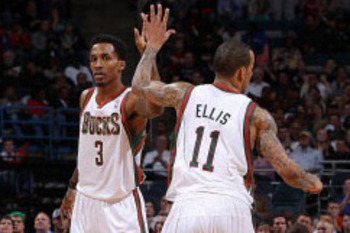 Milwaukee will be a nightmare for teams to prepare for. Brandon Jennings and Monta Ellis are both capable of scoring a ton of points very very quickly. And they can also pass the ball to others when the feeling strikes them. More than anything, both have a lot to prove to themselves and to the rest of the league.
This is a big opportunity for them as individuals and to helpt his team grow.
Ellis is a high-scoring machine who can put up points with the best players in the league. He has an early termination option for the end of the year. Jennings is very much a gunner like Ellis, but has developed his point guard skills some the last two years. Jennings will be a free agent this summer too.
Do not underestimate the power of players in a contract year. Ellis and Jennings could both be in for big years as they try to pour in the points for bigger bucks this offseason. Some team success could help too.
Outside of Ellis and Jennings, Milwaukee features solid, but not spectacular players who can grind and do the intangible things. Luc Mbah a Moute and Ersan Ilyasova are two sides of the same coin. Mbah a Moute is a good defender and rebounder as a small forward while Ilyasova can stretch the floor with his shooting ability. The pieces could fit together.
But it is all dependent on Jennings and Ellis scoring while being efficient and getting their teammates involved. They are better at that than their perceptions make it appear, but they still need to do more for Milwaukee.
The Bad
Scott Skiles is a coach that stresses defense. That is a good thing. He was a great defender as a player and a precise and exacting player. Skiles' coaching style reflects that.
The problem is, Skiles' teams typically grind to a halt and struggle offensively. That might stifle things with the Ellis and Jennings pairing and the offensive potential they have.
In four years with Milwaukee, Skiles has finished with a .500 or better record just once (his only playoff appearance in Milwaukee). In that time too, Skiles' teams have had the 23rd, 23rd, 30th and (last year) 13th rated team in offensive rating. Defensively, Skiles's teams have been 4th, 2nd, 4th and 16th in defensive rating..
Last year kind of flipped the script for Skiles and his m.o. as a coach. Will Skiles return his team to a plodding pace and a focus on defense — somthing neither Jennings nor Ellis is particularly well known for? Or will Skiles unleash the offense and allow Jennings and Ellis freedom to create?
These are big questions for Milwaukee and something the team has to figure out to find success this year. The Bucks do not quite have an identity. It feels like half the roster is built for Skiles' defensive and hard-working ethos while the other half is built for a run-and-gun offensive-focused style.
The Ugly
The Bucks have been a mystery the last eight years (since firing George Karl). They have just two Playoff appearances in that time and just one season with a record better than .500.
In that time, Milwaukee won the top overall pick in a relatively weak draft, selecting Andrew Bogut who showed a lot of promise until injuries cut down his playing time and the team shipped him off to Golden State. The Bucks are kind of lost not even in mediocrity. They are lost outside the Playoffs but too good to score big in the lottery — Jennings was the No. 10 pick remember.
Is Milwaukee headed that way again? It does not seem that way. This season seems destined at worst to be another .400 season that does not guarantee Milwaukee anything in the lottery besides wish and hope.
That has been the frame of mind for far too long in Milwaukee. Maybe a reset with Ellis and Jennings clearing cap is in order and the ultimate end game for rebuilding Milwaukee will come in the next few years.
Still it is asking a lot for Bucks fans to be patient one more time. Milwaukee needs change. The franchise needs to pick a direction and get behind it. Otherwise, it coudl be more of the same.
Have thoughts or predictions on the Bucks? Leave them in the comments below or drop us a line @CrossoverNBA on Twitter or join the discussion by using the hashtag #BucksDay. We will be back with a closer look at the Bucks throughout the day.