Believe it or not, the NBA's regular season is two weeks away. To get you ready, Crossover Chronicles will be profiling a team each day for the next few weeks. This week is the Southwest Division. Today is the New Orleans Hornets.
2011-12 Record: 21-45
Key Losses: Jarrett Jack (traded to Golen State), Chris Kaman (signed with Dallas), Carl Landry (signed with Golden State)
Key Acquisitions: Anthony Davis (draft), Ryan Anderson (traded from Orlando), Austin Rivers (draft)
Depth Chart
| | | | | |
| --- | --- | --- | --- | --- |
| PG | SG | SF | PF | C |
| Austin Rivers | Eric Gordon | Al-Farouq Aminu | Ryan Anderson | Anthony Davis |
| Greivis Vasquez | Roger Mason Jr. | Darius Miller | Jason Smith | Robin Lopez |
| Chris Wright | Xavier Henry | Lance Thomas | Hakim Warrick | Solomon Alabi |
The Good
The future looks very bright for the Hornets. It is pretty unusual that a franchise can seemingly turn around the complete perception about it just a year removed from losing one of the top five players in the league. Well, Cleveland got Kyrie Irving a year after trading LeBron James. And now the Hornets got the top overall pick in Anthony Davis and another solid pick in Austin Rivers to rebuild their foundation.
Yes, New Orleans is going to be good again and quickly after losing arguably the best point guard in the league to one of those so-called big-market teams.
That may not come this year, but the foundation is there. Anthony Davis has Dwight Howard-potential as defensive stopper but a more intriguing and expansive offensive game. At least, that is what he seemed to show in his one season at Kentucky. Davis has an incredibly high ceiling and is a player New Orleans is right to build around.
The other pillar of this foundation is Austin Rivers. Rivers had a decent season with Duke but showed plenty of flashes that his game could better translate to the NBA. He is a scorer and playmaker who has played with the NBA shadow over him throughout his life thanks to his dad, Glenn (aka Doc). Rivers was inconsistent at Duke but very capable. He will have to learn the point guard position.
Also joining the Hornets is Most Improved Player of the Year, Ryan Anderson. Anderson benefited greatly from playing around Dwight Howard and shot a robust 43.9 percent from beyond the arc in Orlando's 3-point-happy offense. Anderson struggled though in the Playoffs without Howard drawing defenses in.
Anderson can do more than shoot 3-pointers. He is a more than capable offensive rebounder and an improving defender. He is still very young and has the chance to continue his improvement.
No doubt, the foundation is there for New Orleans to rebuild quickly.
The Bad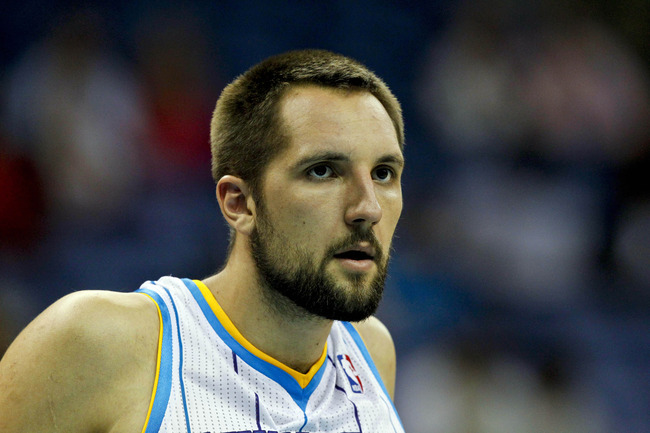 Monty Williams has decisions to make. Decisions that could greatly affect the development of those key players mentioned already. The third-year coach may be tinkering with lineups for a while and whatever one he settles on could be a big deal.
In the preseason, Williams has experimented with playing Ryan Anderson at small forward rather than power forward. Anderson was used exclusively as a stretch-4 in Orlando and in New Jersey because of his size, his underrated rebounding ability and his ability to stretch the floor. However, he still has to improve defensively.
And if he were to play on the wing, his improvement would have to be even greater because he does not have the speed to keep up with most small forwards.
Anderson is one of several position questions Williams has to answer throughout the season and is tinkering with this preseason.
Anthony Davis is splitting his time at power forward and center for New Orleans. The fact Davis has some jump-shooting ability has Williams having him hang around the perimeter perhaps a bit too much in the early going of the preseason. Like Howard's rookie year, nobody is quite sure he can play center until he puts on more weight. And so Davis will likely start at power forward. With the way the NBA is going, Davis likely will struggle defending some of the power forwards in the NBA.
The same position questions will plague Austin Rivers too.
Rivers is in the world between being a point guard and a shooting guard. He certainly has a scorer's mentality and has to learn the finer points of running a team. He could definitely do it. But indecision in where to play him could stunt his growth.
All three of these players have a lot of development left to do and so the decisions Monty Williams makes now could be critical for New Orleans' future.
The Ugly
The Eric Gordon situation is just plain ugly. It is probably somewhat fortunate that a sore right knee has kept him from playing. He should be back soon.
But what transpired this summer was one of the weirdest and most bizarre dramas of the summer.
Gordon, who was a restricted free agent, signed a four-year $58.4 million offer sheet with Phoenix. After signing it, Gordon expressed his excitement about joining the Suns and his wish that the Hornets not match the offer sheet.
New Orleans did match the offer sheet and Gordon got nasty in return. He was extremely upset and was not looking forward to four years with the Hornets. That is a tough position for Gordon and the franchise to be in.
Matching Eric Gordon was probably the right personnel move on the court. Gordon is a great shooter and a good scorer. He will be the offensive attacker from the wing that drives this team's offense while Davis and Rivers develop. But if Gordon is unhappy in the offseason, what will his attitude be in the season?
That cannot be good for the Hornets, particularly with the money they are paying him.
Have thoughts or predictions on the Hornets? Leave them in the comments below or drop us a line @CrossoverNBA on Twitter or join the discussion by using the hashtag #HornetsDay. We will be back with a closer look at the Hornets throughout the day.