We close out our preview of the Pacific Division by asking the Crossover Chronicles writers their thoughts on the big questions facing the pacific Division.
1. What is the biggest obstacle for the Lakers to overcome and win a championship this year?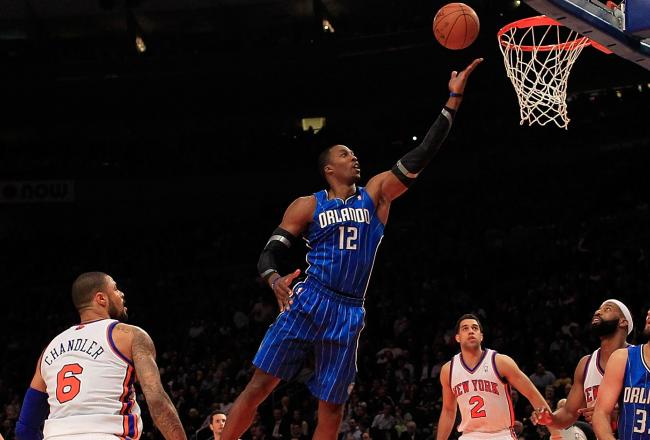 Brendan Bowers: Dwight Howard's health. If Dwight plays 65+ regular season games the Lakers will win the Western Conference. Not just the Pacific Division. If Howard is healthy enough for the Lakers to develop offensive chemistry with him in the middle, the Lakers are in their own lane out West.
Trevor Zickgraf: Oklahoma City, health, chemistry in that order. OKC made the Lakers look really slow, especially on defense, last summer and Dwight Howard will help with that, but he won't be able to make up for the slowest and oldest perimeter in basketball when Westbrook, Durant and Harden are all flying at him. Between Nash's age and back, Kobe's knee and especially Howard's back, health is the next biggest concern, because not having Nash (back/age), Kobe (knee/mileage) or Howard (back) 100% means they're not beating OKC and maybe not even San Antonio. Finally, how long is it going to take this new team to gel. Not only Nash and Howard, but there are a lot of new faces on the bench and they have to learn a new offense AND their starting center is going to have to play catch up to learn all this because he's not healthy yet. Not to mention you have to wonder how cool Kobe's going to be only getting 10-12 shots on any given night.
Kyle Boenitz: Team chemistry. This team is going to have a lot of big egos on the floor at one time. If they all know and play their role to perfection, this could be one of the greatest NBA seasons of all time. If they get into arguments, hog the ball, whine and complain, it will be a long year with a lot of unmet expectations.
Philip Rossman-Reich: Whenever you have a team full of stars like this one, ego is inevitably the thing you have to get over. Kobe Bryant nad his teammates are saying the right things right now, but what happens when the team faces some really tough challenges? What happens when someone does not get the ball enough? Steve Nash should be able to manage everything, but Howard has complained in the past about not getting late game touches and to some extent, he may view himself as the best player on the team (ESPN does at least). Howard wants that responsibility. So what happens if Pau Gasol becomes featured. There is a lot of offensive and defensive possibility but also a lot of pitfalls that could consume this team. Remember, Dwight Howard is still a free agent this summer.
2. If he can stay healthy, what can Andrew Bogut provide to this young Warriors team?
Brendan: Bogut can help facilitate the defensive identity that Mark Jackson has been talking about since he got there. I'm not saying he will be a defensive difference maker himself specifically, but his presence offensively in the half-court will allow the game to slow down. While racing up and down the court to score points with Monta Ellis, Golden State's tempo was too fast to play adequate defense. They needed to outscore people to win. With Bogut, they can slow it down some, allow him to do work offensively, then come back down with a chance to defend on the other end.
Trevor: Love what the Warriors have done in the last 12 months. Bogut, if healthy, is possibly the most single important piece to a team trying to compete for a playoff spot. The Warriors haven't had a smart, defensive minded center in forever-ever is going to be able to make up for the slow footed defense of Steph Curry and Klay Thompson.
Kyle: We've seen in recent years how important a solid NBA big man is to a team. A healthy Andrew Bogut could be the difference maker for this Warriors team. Last year, Golden State was tied for 2nd for most points allowed per game. With Bogut, they can play better defense and not have to try to win by just merely outscoring their opponent.
Philip: I think everyone forgets how skilled Andrew Bogut really is. He is a solid post player, a determined rebounder and a pretty solid passer. It is not his fault that his draft class was so weak that he was the No. 1 overall pick. Bogut has a long way to go to get healthy, but without a true point guard in that starting lineup, Bogut might become the spoke upon which all the other players on the Warriors revolve.
3. What is the biggest change we will see to the Suns offense without Steve Nash?
Brendan: The offense will become pedestrian. Even with a collection of role players, Nash was able to create scoring opportunities that other point guards simply can't. Goran Dragic, while possessing talent and upside, won't be able to facilitate those same opportunities. Not with the talent currently surrounding him. They will labor to score points, and finish last in this division.
Trevor: he biggest change is going to be a drop from mediocrity to full fledged awfulness. Goran Dragic is great, but he's not the distributor Nash was for that team. This is probably the worst team in the Western Conference.
Kyle: There won't be an offense without Steve Nash. For years, Nash made role players into contributors. Now those same role players are led by Goran Dragic. You won't see defenses keying in to stop the point guard. The Suns may get run over this year if they don't find someone to run the offense.
Philip: A lot less offensive improvisation and a slow down to the game. The Suns have been able to run the 7 seconds or less offense because Steve Nash was a brilliant improviser and could control the game even at a breakneck pace. Mike D'Antoni and Alvin Gentry could put their trust in Nash to to do the right thing offensively. Goran Dragic does not have that same kind of trust. And with a solid post player like Luis Scola in tow, a slow down in Phoenix seems imminent.
4. What needs to happen for Tyreke Evans to regain his rookie form and cement himself as a franchise cornerstone?
Brendan: I think he needs to move to Shooting Guard. Start Isaiah Thomas at the one, and let Evans do what he's always wanted to do in this League – score. Make it Thomas' responsibility to manage the offense by incorporating both Tyreke and Demarcus Cousins into the game. The Kings have a solid young PG in Thomas, and two potent scorers in Evans and Cousins. Build from there. Don't ask Evans to be the quarterback anymore.
Trevor: He needs to find a new team. This team has so many shoot first guards, I'm not sure where he fits in, which is weird to say since he's there second best player. He needs to be in a place that isn't going to overload his position with undersized shooters and make him play out of position at the small forward (That's not on Head Coach Keith Smart, it's on GM Geoff Petrie).
Kyle: His attitude needs to change. If he wants to be the team's leader, he needs to act like one. He needs to give his all in practice and in games and get back to where he used to be. The Kings are a team with a lot of young talent, but they don't play like they care. Evans isn't the only player on the team that needs an attitude adjustment, but if he improves his outlook, I'm sure others will follow.
Philip: Confidence. He needs to know that his teammates, his coaches and his organization have faith in him to turn it around. There seems to be a lot of bad blood in Sacramento about Evans and how he has disappointed. He needs to get built back up because he is a great player when given the opportunity.
5. What does Blake Griffin need to improve on to take himself and his team to the next level?
Brendan: Blake needs a post move. At least one. Leaping over people and dunking on their heads is terrific in the regular season – better than terrific actually – but it doesn't work in the playoffs. Back to the basket, one dribble, get past your defender, Blake. If you do, you'll become an actual superstar. Until then you're just very, very good.
Trevor: Getting better on defense would help, but mainly he needs to develop a midrange jumper ala Karl Malone. If he does that he becomes almost unstoppable on offense.
Kyle: Defense and a jump shot. Griffin has the athletic ability to be one of the greatest players of all time, but he doesn't have enough basketball skill. He's a liability on the offensive end when he's not running the fast break because he can't shoot and while he's strong and a great rebounder, his post defense leaves a lot to be desired. I'm not sure if we'll ever see Griffin develop into the player that can carry a team, but he's got a long career ahead of him.
Philip: I would like to see Blake Griffin improve his jumper some more. He is already a pretty explosive finisher and solid slasher, but his lack of 3-point range hurts his team. I don't see him as a straight post-up player, but more of a stretch-4 in the Josh Smith mold. If he wants to reach his full potential, he will need to make opponents respect his jumper a bit more.
Crossover Chronicle's Pacific Division Prediction:
1. Lakers
2. Clippers
3. Warriors
4. Kings
4. Suns
How will the Pacific Division shake out? Share your thoughts with us in the comments below or on Twitter by tweeting us @CrossoverNBA. Next week we hit the other coast with the Atlantic Division!