Believe it or not, the NBA's regular season is six weeks away. To get you ready, Crossover Chronicles will be profiling a team each day for the next six weeks. This week is the Atlantic Division. Today is the Toronto Raptors.
2011-12 Record: 23-43
Key Losses: Jerryd Bayless (signed with Milwaukee), James Johnson (traded to Sacramento), Gary Forbes (traded to Houston)
Key Acquisitions: Kyle Lowry (traded from Houston), Landry Fields (signed from New York), John Lucas III (signed from Chicago)
Depth Chart
| | | | | |
| --- | --- | --- | --- | --- |
| PG | SG | SF | PF | C |
| Kyle Lowry | DeMar DeRozan | Landry Fields | Andrea Bargnani | Amir Johnson |
| Jose Calderon | Linas Kleiza | Quincy Acy | Ed Davis | Jonas Valanciunas |
| John Lucas III | Terrence Ross | Alan Anderson | Dominic McGuire | Aaron Gray |
The Good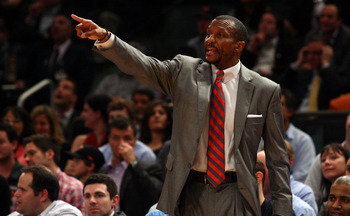 The Raptors are talking a big game. There is nothing wrong with that.
After losing Chris Bosh in free agency, and kind of always being resigned to do so, this is a franchise that has kind of accepted a place in the bottom rung in the Eastern Conference. The Raptors have only made the Playoffs five times in 17 seasons and been out of the first round once. They have dealt with a disgruntled superstar in Vince Carter and a star that maybe never really was a franchise cornerstone in Chris Bosh.
The Raptors want to believe that they have at least the beginnings of a formula to begin the rise up the Eastern Conference.
As much as the acquisition of Kyle Lowry is important and should be a major offensive boost. The difference for the Raptors remains the work from Dwane Casey.
Last year, the Raptors had a defensive efficiency of 101.5, good for 12th in the league. In 2011, the Raptors were last in the league with a 109.8 defensive efficiency. The improvement on defense for this team was simply astounding and the emphasis on that end that Dwane Casey has put into this team has been a big part of that.
It was Casey who built the defense that helped the Mavericks get over the top and win the championship. It helped him land the job with Toronto. Defense remains how the Raptors will win and improve.
That is still a pretty astounding feat considering the players on his roster. Last year, there were not any players that were known as great defenders. Leandro Barbosa might have been one, but he was shipped to Indiana in a mid-season deal. Amir Johnson is a solid defender but he is not making any all-defensive teams any time soon. The team scheme is very good. That has to be the only conclusion.
What will Casey do with this new mix? That is the big question.
Kyle Lowry is a very gifted player and one of the most underrated point guards in the league. He averaged 14.3 points and 6.6 asissts per game last year. He has shown some real flashes of coming into his own. The hope is he can facilitate an offense that looks pretty good on paper with a slasher like DeMar DeRozan and a scorer like Andrea Bargnani.
The Bad
You look at this team on paper and you wonder how this team struggles to put the ball into the basket. The Raptors were 21st in offensive efficiency with 103.1 points per 100 possessions.
Bargnani is only good at scoring and shooting. DeRozan is an improving offensive player who is entering a contract year and a pretty important year contractually. Jose Calderon is a solid shooter, solid distributor and a good point guard.
Why did this offense just not work?
The team lacks a creator. There still does not appear to be a player who can create offense for themselves and for others. That is the reason that Toronto perhaps brought in a player like Kyle Lowry. But he alone probably does not solve that problem.
Bargnani is a top overall pick from a weak draft that has never really developed much more than an ability to shoot. He is not a big creator for himself or much of a defender or rebounder for a 7-footer.
The Raptors are talking a big game right now. They are setting their sights high, but it is hard to say they are moving anwywhere up into the Eastern Conference playoffs. If they do, it certainly does not feel like they can do much mroe than bow out quickly.
The Ugly
The rumor all last season and even for much of the summer involving Toronto had to do with Jose Calderon. The report was that Calderon was not happy in Toronto and that Toronto was desperate to move him.
So here we are in training camp and Calderon is still with the Raptors.
Why Toronto wants to get rid of a player that 10.5 points per game, 8.8 assists per game and posted a 16.7 PER on a team that struggled offensively is pretty astounding. With a 44.2 percent assist rate, it of course makes sense to sit him down behind another point guard.
You can see why Calderon kind of feels neglected and wants to go some place where he knows he will be a starter.
Calderon survived this once before. In 2008, Calderon and T.J. Ford split time at point guard with Calderon playing so well that Toronto pushed out the still-productive Ford out of town. That split was similarly awkward as neither player wanted to give in on the point guard battle.
The same appears to be happening now with Calderon and the incoming Lowry. Calderon says he is happy now, but we will see how things go when the season starts. If Calderon gets unhappy again, it could be a very disruptive distraction for a team with high hopes.
Have thoughts or predictions on the Raptors? Leave them in the comments below or drop us a line @CrossoverNBA on Twitter or join the discussion by hashtagging #RaptorsDay. We will be back with a closer look at the Raptors throughout the day.