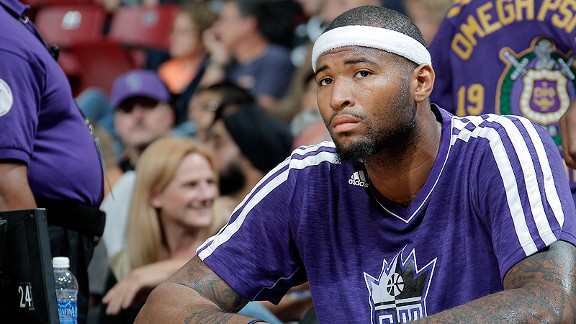 I guess when you are a struggling team like the Sacramento Kings, "indefinitely" means "one game."
Kings center DeMarcus Cousins was suspended indefinitely after getting into an argument with head coach Keith Smart at halftime of last Friday's loss to the Los Angeles Clippers. However, Cousins was reinstated by the Kings on Monday after just one game. He practiced with the team but did not make the trip to Portland for Wednesday night's game against the Trail Blazers.
This is Cousins' third suspension of the year, the first two coming from the NBA. He has become more of a liability than an asset for the Kings. They cannot afford to pay him to sit on the bench, but his attitude makes it almost impossible for the team to get the value they want in a trade.
I think the Kings are just going to have to take whatever they can get for Cousins and get him out of Sacramento. This probably means he will get to go play for a better team, which ultimately means Cousins is rewarded for his childish behavior, but the Kings are stuck between a rock and a hard place and will have to cut their losses.
So who wants a talented(?) big man with an attitude problem?
One of life's great mottos truly applies here, "always buy low." I am sure there is a GM out there who thinks they can provide the ideal situation for Cousins that will keep him happy and get him finally playing at his full potential, and they are salivating thinking about the price they can get him for.
However, whether it is because no one truly wants him or no one wants to show their hand and make the first offer, it does not seem like any teams are coming out and saying they want to acquire Cousins from the Kings.
Maybe this is truly a match made in Hell, and Cousins and the Kings are doomed to be together forever. It's not like Sacramento is a stranger to bad attitudes and failure. Maybe they're just used to it by now.
Image: ESPN.com