New York Knicks (5-0) vs. San Antonio Spurs (7-1)

8:30 p.m.
The New York Knicks are the lone undefeated team remaining in the NBA. What is most impressive is that they have won every by 10 points or more and have not really been challenged — even against the Heat. In fact, Tuesday's win over Orlando was the first time New York had trailed in the fourth quarter of any game this year.
You would kind of expect San Antonio to put up more of a challenge. The Spurs are still one of the top teams in the league and are playing very very well. San Antonio should be New York's sternest challenge to day.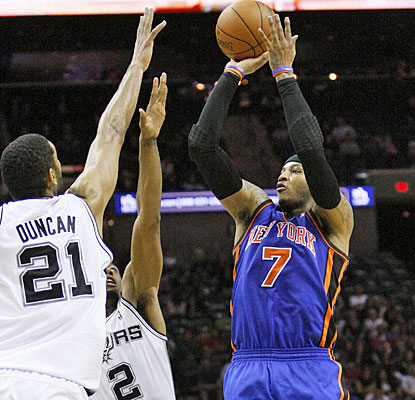 How do they match up?
New York uses Tyson Chandler as its center but lacks a lot of front court depth. At least until Rasheed Wallace gets himself back into shape and Marcus Camby is still finding his way into the New York rotation. The Knicks tried playing Steve Novak and Carmelo Anthony at the post positions for stretches in the game against the Magic. This was how Orlando nearly stole the game.
Of course, Anthony took over in the end and eventually New York wore Orlando out. That will not happen against San Antonio. And going small will not work either with Tim Duncan in the post to contend with.
Other Storylines to Watch
-J.R. Smith has turned in a fantastic season so far for the Knicks coming off the bench. He is averaging 18.2 points per game and shooting 72 percent from beyond the arc. That is pretty incredible. Mike Woodson credits Smith bringing a more professional approach to the season for his success. Smith admits he let the nightlife of New York get to him in his first year last year.
-Remember before Tony Parker when Jason Kidd was considering signing with the Spurs and joining Tim Duncan to chase a title? Kidd said he was very close to signing with San Antonio and potentially making that super team last decade. The Spurs eventually bought into Parker and it all worked out.
Tonight's Other Games
Boston Celtics (5-3) vs. Brooklyn Nets (4-2)

8 p.m./TNT
The Celtics are getting some inspired play from veteran Kevin Garnett so far this season. Garnett is averaging 15.3 points and 8.2 rebounds per game. There seems to be no slowing Garnett down. One reason KG continues to be fresh is because Doc Rivers manages his minutes so well. Of course, last night against Utah, Rivers rode Garnett through the entire fourth quarter to help get the win.
Miami Heat (6-3) vs. Denver Nuggets (4-4)

10:30 p.m./TNT
Dwyane Wade's status is uncertain for tonight's game after re-aggravating his ankle injury last night against the Clippers. It was a rough loss for the Heat in Staples Center and won that continues to show the Heat are not quite the team they were last year. Miami has to find its defense again to right the ship and come out with a solid West Coast trip.