Believe it or not, the NBA's regular season is six weeks away. To get you ready, Crossover Chronicles will be profiling a team each day for the next six weeks. This week is the Atlantic Division. Today is the Philadelphia 76ers
2011-12 Record: 35-31, lost second round
Key Losses: Andre Iguodala (trade to Denver), Louis Williams (signed with Atlanta), Elton Brand (signed with Dallas)
Key Acquisitions: Andrew Bynum (trade from L.A. Lakers), Jason Richardson (trade from Orlando), Arnett Moultrie (draft)
Depth Chart
| | | | | |
| --- | --- | --- | --- | --- |
| PG | SG | SF | PF | C |
| Jrue Holiday | Evan Turner | Jason Richardson | Lavoy Allen | Andrew Bynum |
| Royal Ivey | Nick Young | Thaddeus Young | Arnett Moultrie | Spencer Hawes |
| Maalik Wayns | Damien Wilkins | Dorrell Wright | Dan Gadzuric | Kwame Brown |
The Good
The 76ers did not want to be stuck in the NBA's middle. So give them credit for making an incredibly bold move this summer. They traded away Andre Iguodala and let a couple of their secondary pieces to go for a shot at something much more real.
Is Andrew Bynum going to be able to carry the team on his own? is he ready for that kind of responsibility? That is a legitimate question. It is certainly laudable for Philadelphia to give him that chance, feeling the team as it was currently constructed had gone as far as it could.
This is still at team, much like last year's team, that is pretty deep. Nick Young, Thaddeus Young and Spencer Hawes should all work well off the bench and give the team some scoring punch along with Doug Collins' characteristic defense. Jrue Holiday is a nice young player, Evan Turner is very skilled too. And then there is Andrew Bynum.
The other great thing about this roster is its versatility.
Turner can play both point guard and shooting guard. Hawes can help out at power forward if needed. Thaddeus Young can play both forward positions. Jason Richardson can also play both wing positions. There are a lot of solid players that do intangible things to. This is very much a team that will play similar to the Sixers teams of the past under Doug Collins … except with Andrew Bynum at center.
The Bad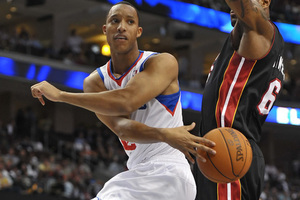 In trading Andre Iguodala, however, the 76ers traded away its biggest perimeter scoring threat. Letting Louis Williams walk in free agency also does not help Philadelphia in that department. While Andrew Bynum is very much the focus, the 76ers will have to answer some very serious questions about where the scoring will come otherwise.
Philadelphia has relied on balanced scoring for much of the last two seasons. That perfect balance seems to be disrupted now with the changes to the roster.
And that leaves lots of questions of whether the new players can step in to those new roles.
Is Evan Turner ready to be more of a go-to offensive option? Is Jrue Holiday ready to take over the point guard duties full time? Can Andrew Bynum succeed when defenses focus on him night-in and night-out? What does Jason Richardson have left in the tank?
In a lot of ways the 76ers actually downgraded some to go all-in on this Bynum gambit. That is, unless some of these major questions are answered in the affirmative.
The Ugly
Bynum felt a bit boxed in with the Lakers. But getting your own team comes with freedom and responsibility. Bynum has not done so well with freedom.
Maybe he was just acting out in Los Angeles, frustrated with his diminished role and perhaps Kobe Bryant continuing to favor Pau Gasol over him. If Bynum has not matured into a team leader and a dependable option, though, things could get very ugly in Philadelphia very quickly.
The 76ers are banking a lot of their future on Bynum. Although Bynum has been in the league for seven years, it is not quite clear what kind of player Bynum is. The teammates he had in Los Angeles have perhaps hidden his talents. So Bynum could be ready for this role and could thrive. Or he could get increasingly more frustrated.
Doug Collins is very good at relating to his players and getting the most out of them. Bynum, though presents a different kind of challenge, perhaps.
Collins has to build up his confidence that he can be a franchise player while keeping the balance offensively and, more importantly, the defensive intensity that Philadelphia has been known for the last few season.
Have thoughts or predictions on the 76ers? Leave them in the comments below or drop us a line @CrossoverNBA on Twitter or join the discussion by hashtagging #SixersDay. We will be back with a closer look at the Sixers throughout the day.