Every morning, we will give you five things from the night before in the NBA to start your day.
1: Not your average Bobcats
Last year when the Charlotte Bobcats appeared on the schedule it was marked down pretty simply as a win. The Bobcats were not just bad, they were historically bad, comically bad and hopelessly bad. Whatever young players worth saving from that team, you worried had picked up too many bad habits from such a hapless season.
The Bobcats look different now. And it is not just the rebranding of the franchise that took place this offseason. The Charlotte Bobcats are, gasp, a good team.
The Bobcats are 5-4, a game over .500 and two wins away from tying last year's historically low mark. Charlotte did not win its fifth game last year until March 6 or game 36. The Bobcats are slightly ahead of schedule it would seem.
Ramon Sessions scored 23 points off the bench, making all 10 of his free throws. Kemba Walker has been superb in his sophomore year with 19 points on 7-for-13 shooting. Rookie Michael Kidd-Gilchrist had 15 points and nine rebounds.
There appear to be no ill effects from the record-setting season the Bobcats had last year. This is a new team with a new attitude. And the past seems very far behind them.
2: Curry, Mayo battle in Big D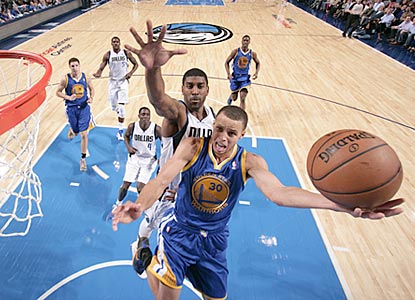 Stephen Curry and O.J. Mayo entered a scoring battle late in the Warriors visit to the Mavericks.
Curry scored 20 of his 31 points in the fourth quarter and overtime. Mayo seemed determined to match Curry late in the game, scoring 27 points on his own, many of them coming in the fourth quarter and overtime as well.
Curry though was the one who won the battle as he scored six points in the overtime for a 105-101 win. Mayo was able to help pace his team in overtime, clearing up an isolation at the top of the key numerous times and attacking the basket aggressively. He made a great decision feeding the ball to Shawn Marion in the corner late. But Golden State recovered and Marion missed the game-tying shot. Curry rebounded and Dalas was forced to foul.
Still Curry is a player everyone knows can have big scoring games like this. Mayo has eclipsed his career high from his time in Memphis numerous times already this season. If it were not for James Harden, Mayo would get the talk of bench players who have made the step up into a starter's role.
And Mayo is the man right now with Dirk Nowitzki out.
That does not necessarily mean wins however, as Dallas sits at .500 following the loss.
3: HIGHLIGHTS!!!
Roy Hibbert goes to work
JaVale McGee doing JaVale McGee things
Chris Paul shrugs off Tony Parker
4: Line of the Night: David West 30 points, 10/14 FGs, 10/10 FTs, 8 rebounds
David West is just a consistent player. Sure, he put up this stat line against the Wizards, but it is still a startlingly efficient stat line. West is a player with a nice mid-range jumper and a solid post game. He and Roy Hibbert dominated the paint in this game as Hibbert contributed 20 as well.
5: You can quote me on that
David West, that's all I'm going to say. Get the ball to him. He's been carrying us. Anytime you have a guy that can put a team on his back and will them to a win, you have to go through him.
We're fighters. We play hard regardless of the situation. Every time someone drives on us, we collapse on him.