Believe it or not, the NBA's regular season is four weeks away. To get you ready, Crossover Chronicles will be profiling a team each day for the next few weeks. This week is the Northwest Division. Today is the Portland Trail Blazers.
2011-12 Record: 28-38
Key Losses: Jamal Crawford (signed with L.A. Clippers), Raymond Felton (traded to New York), Jonny Flynn (signed with Detroit)
Key Acquisitions: Damian Lillard (draft), Meyers Leonard (draft), Will Barton (draft)
Depth Chart
| | | | | |
| --- | --- | --- | --- | --- |
| PG | SG | SF | PF | C |
| Damian Lillard | Wesley Matthews | Nicolas Batum | LaMarcus Aldridge | Meyers Leonard |
| Nolan Smith | Will Barton | Victor Claver | J.J. Hickson | Jared Jeffries |
| Ronnie Price | Sasha Pavlovic | Adam Morrison | Craig Smith | Joel Freeland |
The Good
Portland knows how to stockpile draft picks. That has been something the Trail Blazers have been quite adept at since they traded Tyrus Thomas for LaMarcus Aldridge on draft night in 2006 (great move, by the way). Portland's name always pops up heavily on Draft night.
This night was no different. Portland picked up Damian Lillard, Meyers Leonard and Will Barton in the Draft. Lillard and Leonard were two first round picks that hold a lot of promise of fulfilling roles in the future. Barton also could be a solid second round pick.
LIllard was the one who really turned heads. In the Summer League in Las Vegas, he averaged 26.5 points per game and shot a 50.6 percent effective field goal percentage. Lillard showed he could score and score a lot against Summer League competition like he could when he was at Weber State. Lillard remains one of the more intriguing prospects from last year's draft and is an early dark horse to win the Rookie of the Year.
He should have plenty of opportunity to play this year in Portland as the team and the franchise goes through a bit of a transition. Nate McMillan is gone and player-favorite interim coach remains on the staff as an assistant coach (that is totally not awkward).
Stalwarts like LaMarcus Aldridge, Wesley Matthews and Nicolas Batum remain on the roster too. Those players are solid guys to have who are looking to expand their games, but know what it takes to work together and fight for wins in this league. Aldridge is a borderline All Star and someone teams always have to account for.
That alone should make Portland dangerous despite the seemingly down season the team may be headed toward.
The Bad
There are still a lot of questions about this team. Aldridge missed the Olympics this year thanks to an injury that knocked him out of the final 11 games of the season. He will be carrying a bigger offensive load this year if he wants to keep Portland in the Playoff hunt.
The Trail Blazers have always been able to compete. But there is just a lot about this team that is completely unproven. Outside of Aldridge, of course.
Wesley Matthews and Nicolas Batum are the biggest question marks. Matthews has had some stellar games in his career, but he has never done it on a consistent basis. Matthews averaged 13.7 points per game last year while shooting a 49.6 percent effective field goal percentage.
Similarly, Nicolas Batum has shown a lot of promise. But he has also shown a lot of volatility. I do not think I have to show you what happened in the Olympics. Batum averaged 13.9 points per game.
What Portland needs from one of these players is to step up and be the second scorer for this team and ease some of the burden on Aldridge.
The other main contributors on this roster are rookies, and rookies are always pretty inconsistent as they find their way into the league. Lillard and Leonard will need some time to develop. This team could surprise, but it will take big efforts from Aldridge and Matthews or Batum.
The Ugly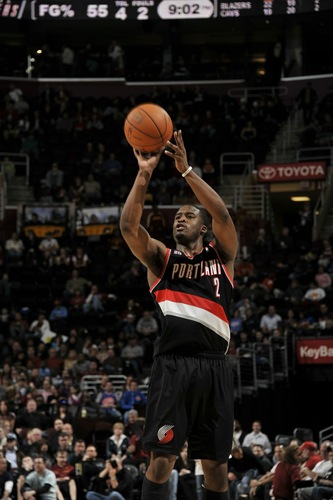 Personally, I find it difficult to get excited about this team. Aldridge is a great player, but coming back from that injury last year makes you really wonder about the water in Portland.
Also, the reliance on Matthews and Batum and then Lillard and Leonard makes me a little uneasy. The prospect for success this season is pretty low.
That leaves Portland asking some very serious questions this season. Aldridge is three years away from free agency and so there is time to make it work. But is Portland trying to build up quickly or take a long-term look at things.
Judging by the roster the team has now full of rookies and very young players, it seems the Trail Blazers are not interested so much in winning now. Maybe not winning before Aldridge becomes a free agent. That is unless Lillard is as good as he played in Summer League.
What that means is that Aldridge may be on the trading block soon. It seems like that is the direction things are headed.
It could get very ugly in Portland before it gets better.
Have thoughts or predictions on the Trail Blazers? Leave them in the comments below or drop us a line @CrossoverNBA on Twitter or join the discussion by using the hashtag #BlazersDay. We will be back with a closer look at the Trail Blazers throughout the day.