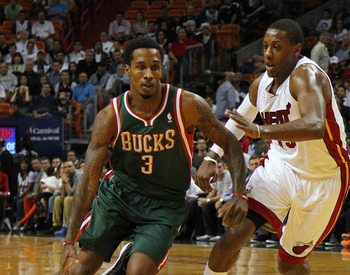 Brandon Jennings is a confident player. You have to be to be the gunner that many perceive him to be and average 15 field goal attempts per game while shooting a hair better than 40 percent.
That will not stop Jennings from saying what is on his mind and approaching his second chance at a Playoff appearance with a sense of confidence. Even if that turns out to be against the defending champion Miami Heat.
A few weeks back, Brandon Jennings said he liked MIlwaukee's matchup with Miami. With streaky shooters like Jennings and Monta Ellis, anything is possible perhaps. Both of those players can get going at a moment's notice. There are good shooters in J.J. Redick and Ersan Ilyasova to help spread the floor.
Most importantly, and perhaps the reason the Bucks could be a dangerous team in the first round, is the Bucks can defend. Larry Sanders is a great young shot blocker who can protect the rim, John Henson totaled seven blocks in Wednesday's overtime loss in Orlando while Sanders was out after falling hard on his hip. Luc Richard Mbah a Moute is a solid defender and Marquis Daniels does not start for his offensive ability.
Milwaukee is 11th in the league in defensive rating which is surprising considering some of the players on the roster.
LeBron James, for what it was worth, took no offense to Jennings claiming the Bucks matched up well with the Heat. That is how an NBA player is supposed to think.
That's OK. If they feel that way, they have us in the first round. We'll see how well we match up.

It's OK to think that way and you can believe that way. They should, though. We're all NBA players for a reason. Teams are put together for a reason to go out and play. I'm not here to take shots at anyone. That's not what we do as a team. We just go about our business and whoever we have in the first round, we'll be ready for them.
Now, reality is a completely different thing.
Tuesday, Milwaukee lost 94-83 to a Miami team playing without Dwyane Wade and Chris Bosh. James had 28 points, seven rebounds and seven assists. This season, Miami has won three of the four matchups. That one win was a 104-85 win in Milwaukee on Dec. 29. A November matchup was an overtime game.
So maybe there is something to it.
The teams that typically do well against the Heat are teams that are able to rebound, have a rim-protecting center and a point guard who can get into the lane and make the defense work. It helps having shooters who can spread the floor. Milwaukee certainly has some of these.
However, the Playoffs are a different story and the Bucks lack consistency in these areas to defeat the Heat four out of seven times. I doubt there is very much we can take from the regular season games. Milwaukee has yet to see the destructive force of this fully operational defending champion.
Be confident all you want Brandon Jennings, but the Bucks might be in over their head.