The Los Angeles Lakers got a much-needed win on Sunday against the Cleveland Cavaliers. They ended a six-game losing streak and held a team to less than 100 points for the first time in 2013.
Anyone want to guess who logged the most minutes in that game? It was not Kobe Bryant or Dwight Howard or even Metta World Peace. It was fourth-year small forward Earl Clark.
Clark played 36 minutes against the Cavs, scoring 13 points, grabbing nine rebounds and dishing out four assists.
This was not just a random outlier either. Clark was just one rebound away from logging his third straight double-double.
He has come on strong, filling in admirably for Pau Gasol, who is out with a concussion.
Clark is going to continue to get minutes as long as Gasol is out, and if he continues to put up solid numbers, you have to think that the Pau trade rumors are going to return with more traction than ever.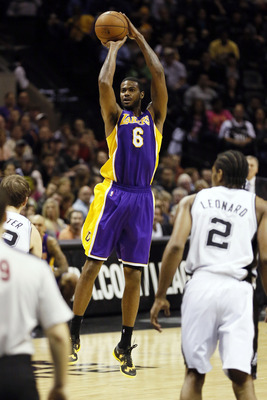 Of course this is just a small sample size. Clark has had his moments during his career, both in Phoenix with the Suns and Orlando with the Magic, but has not ever made a significant contribution to a team over an extended period of time. Gasol will not be out with a concussion forever, but Clark is making the most of his chance while he gets it.
What actually stands out to me is Clark's assist numbers. He has had at least three assists in each of the last four games. Not bad for a guy who's 6-foot-10. Pau Gasol has been commended his whole career for being one of the best passing big men in the league, now Clark is stepping in and showing he can do the same.
To me, Clark fits into a Mike D'Antoni type of offense really well, which is probably why he's getting this opportunity.
He is on the radar now, so we will see what Clark can do tonight against the Milwaukee Bucks, but if he continues this level of play, he may see some solid minutes even when Gasol returns.
Image: SB Nation