The pursuit of Monta Ellis is beginning to heat up as teams are looking to fill in with an elite scorer. The offensive-minded shooting guard turned down a reported 3-year, $36 million extension with Milwaukee looking for a better situation. It appears three teams have narrowed in on him as his best options.
Marc Stein of ESPN.com reports the Hawks continue to be interested in Monta Ellis and are working on signing the free agent guard to complement their summer haul that already includes Paul Millsap. Alex Kennedy of HoopsWorld reports the deal would likely start somewhere around $10 million per year although the length of what he is discussing with the Hawks was not known. Nothing was imminent as of Sunday night.
Ellis had a rough season with the Bucks, despite helping them make the Playoffs for the first time since 2010. He averaged 19.2 points per game on 41.6 percent shooting. In the four-game Playoffs sweep against the Heat, Ellis averaged only 14.3 points per game.
No one doubts his scoring ability, it is only how he fits into a championship puzzle that remains in question. For teams in need of a primary scorer, Ellis is not a horrible option.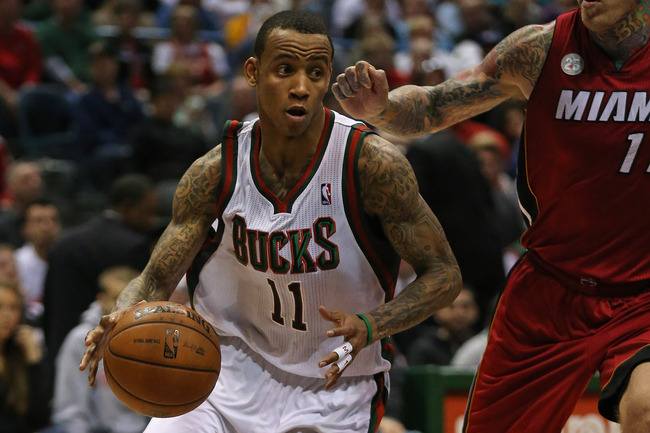 That might be why the Kings also still appear to be in the mix for Ellis.
Stein, among the other complex moves the Hawks, Kings and Bucks might be talking about to get Monta Ellis or Brandon Jennings (or Jeff Teague), reports the Kings are trying to trade Jimmer Fredette and Chuck Hayes in order to clear enough cap space to sign Ellis. The Kings have beena ttached to Ellis several times throughout the course of his free agency and that interest does not seem to be gone.
What is gone is perhaps Denver's interest.
The Nuggets are rumored to be receiving Randy Foye from the Jazz as part of a sign-and-trade deal with Andre Iguodala (where he would go to the Warriors). that would eliminate their need for a shooting guard and fill up their available cap space.