This weekend marks the NBA's return to Houston for the All-Star Game. The 2006 weekend in Houston gave us several things. LeBron James became the youngest player ever to win the game's MVP trophy. Bill Simmons wrote one of the funniest sports articles I have ever read.
It also gave us the biggest Slam Dunk Contest travesty in history when Nate Robinson defeated Andre Iguodala.
Many have said Michael Jordan defeating Dominique Wilkins at the 1990 dunk contest in Chicago had some home cooking involved and it definitely did. But 2006 was something else.
It was people getting caught up in a short guy being able to dunk. A guy who kind of looks like the rest of us being able to dunk. It would be fine any other year, but Iguodala provided at least two amazing dunks we had not seen before.
The first dunk comes at the :55 second mark of the video above. Iggy takes a pass off the back of the glass, manages not to decapitate himself and flushes it home. I cannot even comprehend the agility and timing that takes.
The second dunk comes at the 1:38 mark when he took the ball off the bounce, cradled it behind his back and threw it down. As Magic Johnson said on the broadcast "I don't care who you are, that's hard to do."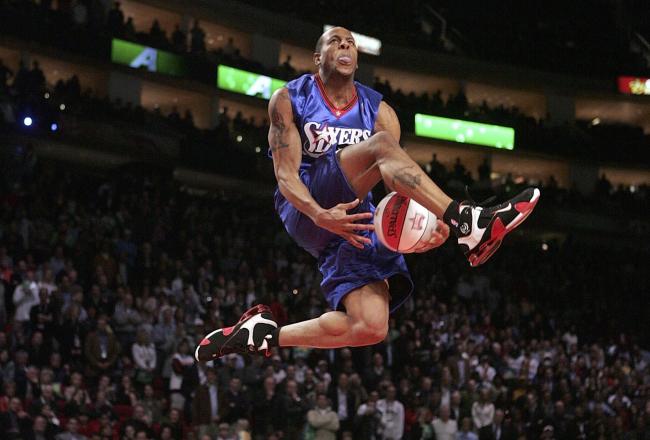 That should have been a 50 and was not, and then Robinson brought out Spud Webb and performed easily his best dunk of the night (2:09 mark) by jumping over Spud, catching a pass and dunking it with one hand. It was great.
So that meant a dunk off. Iggy went the relatively safe route of going between his legs and putting it home with his left hand (he is right handed). Still tricky and awesome, but not his best dunk of the night. Then, Robinson performed the stupidest dunk I have ever seen. He jumped in the air, put it between both legs, threw the ball of the glass and dunked it.
The real problem was it took what felt like two dozen tries and couple of modifications to his attempt. Somehow, on attempt 45, when he finally made it, he got a high enough score to beat Iggy.
Aren't we supposed to deduct points for failed attempts?
My buddy Brett was there and he said it really took the wind out of the sails of what had been a really entertaining dunk contest.
Does this really matter? No, but Iguodala should go down as one of the best dunk champions of all time (in the tier below MJ, 'Nique and Vince Carter) and instead we have to call Nate Robinson a three-time dunk champion.
Here is to hoping the judges and fans in Houston get it right on this go around.