The first domino before the February 21 trade deadline fell Wednesday when the Grizzlies traded Rudy Gay to the Raptors for Jose Calderon and Ed Davis and then sent Calderon to the Pistons for Tayshaun Prince and Austin Daye.
It was not quite the deal everyone expected for Gay, but it was not totally unexpected that Gay would get moved. Memphis is desperate to get under the tax line while still maintaining a competitive team. The Grizzlies appeared to do just that with this deal.
The wheeling and dealing before the NBA's trade deadline is certainly not over. Who will be the next big name player to get moved? What player with the Playoff contenders look to grab to increase their chances at winning?
Josh Smith, might be that answer according to Marc J. Spears of Yahoo! Sports:
Expectations are growing that the Hawks will trade forward Josh Smith, a source said. Smith has averaged 17 points, 8.6 rebounds. 4.7 assists and 2.1 blocks this month despite the trade speculation.
Smith is having a somewhat disappointing season, but Atlanta is still in the thick of the East's Playoff race. Maybe by design or not, the Hawks decided to take a step back and ahve been building to make a push for big-name free agents. It was unclear when Atlanta unloaded Joe Johnson and Marvin Williams whether Josh Smith was in the team's future plans. It felt like the team was preparing to build around Jeff Teague and Al Horford.
Smith becomes a free agent this summer and so the decision on his future is about to come to a head.
If Atlanta is actively shopping Smith, there certainly are a few teams that would be interested. Smith now becomes the hottest name on the trade block. This near All Star could certainly help a team or help a team jump start its rebuild.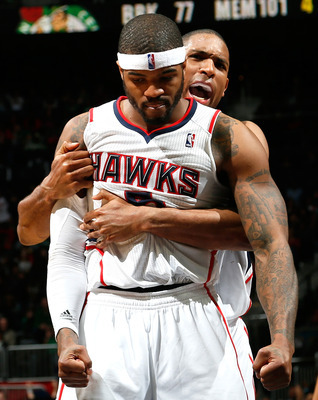 First things first, what would Atlanta be looking for in return for Smith?
If you look at a chart of Atlanta's contracts (via HoopsHype), you can see the Hawks are angling to have plenty of cap room for this summer and the summer of 2014. There is very little money committed beyond the next two years. It seems Atlanta is hoping to maintain that flexibility and wait for the right player to bring in to complete the roster around Horford and Teague.
Smith very well could be part of that plan. Nobody seems sure.
What teams would make an offer for Smith?
There was talk that the Lakers had some interest in pairing Smith with his childhood friend Dwight Howard by trading Pau Gasol. It seems unlikely the Hawks would be willing to take on Gasol's contract in return though. There have not really been any other rumors or leaks suggesting Smith could be on the move.
With Rudy Gay and Jose Calderon traded, it is looking less likely that it would be a big-name-for-big-name trade. Maybe Milwaukee takes a risk and trades away free-agent-to-be Monta Ellis for Smith to give the Hawks more of an inside-out approach. But that does not really help Atlanta much long term as it is a swap of expiring contracts.
Toronto may not be done dealing. It is well known they are trying to trade Andrea Barganani. Maybe the Hawks like the idea of pairing Bargnani with Horford to help spread the floor.
Again, these scenarios seem unlikely.
Danny Ferry's job to find a good deal probably got tougher with Rudy Gay traded. That means he will probably have to trade more for a collection of assets — young players and draft picks — from a team willing to take the risk of bringing in Smith and trying to re-sign him. Doing that will not be easy as Smith remains something of a mystery to many contenders in the league.
Does Smith get traded? That is a difficult question to answer. Even more difficult for the teams involved in any deal and wondering if Smith fits their team.