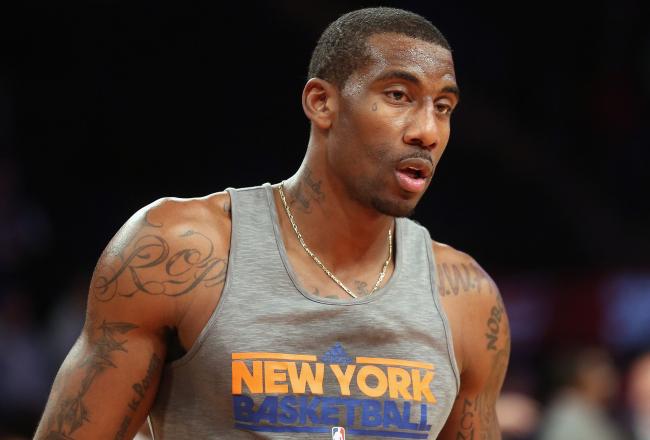 The New York Knicks are going to bring in the New Year in grand old fashion on Tuesday.
According to Adrian Wojnarowski of Yahoo! Sports,
Amar'e Stoudemire will make his season debut
when the Knicks host the Portland Trail Blazers on Tuesday at Madison Square Garden.
It will be Stoudemire's first return to the floor since undergoing arthroscopic surgery last summer and he will reportedly come off the bench versus Portland for Mike Woodson according to the report.
What remains to be seen is how STAT handles the first game back and how many minutes he will actually log in his return against the Blazers.
This much we know: the Knicks are well versed in coping with injuries and persevering in the Eastern Conference this season. New York has been without Iman Shumpert (knee), Raymond Felton (broken pinky finger), Rasheed Wallace (stress fracture) and of course Stoudemire — who still is not 100% — yet Woodson has his squad repping the second-best record in the East at 21-9.
Impressive.
If not for anything else, Stoudemire should provide some consistent inside scoring which has been lacking this season. The Knicks are also 6-4 over their last 10 games, so injecting an offensive punch into the lineup couldn't come at a better time. But that's not all.
Carmelo Anthony could also be back for the Knicks after sitting out with a hyper-extended knee.
Still, the focus truly remains on Stoudemire…even with Anthony saying days ago how integral his return will be to the Knicks.
"We need him," Anthony told Yahoo! Sports after the Knicks' 106-105 loss to the Sacramento Kings.
"I know we are playing well, but the more bodies, the better, especially at this point where guys are doing well. …We are ready for him."
And now Amar'e Stoudemire appears ready too.