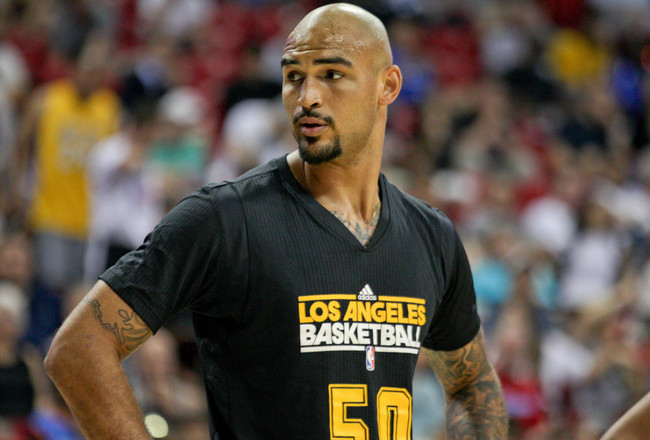 The Lakers will be one of the teams wearing sleeved uniforms next season, Dave McMenamin of ESPN Los Angeles reports. So much for being second in Paul Lukas' rankings of NBA uniforms.
The Lakers, one of the premiere and tradition-rich franchises in the NBA, have a classic uniform in gold and purple that needs very little adjustment. Since 1966, the jersey has virtually been the same, except for the adding of a purple sash down the sides of the jersey at home and gold on the road. The biggest change to the jersey set came in 2001 when the Lakers added a white alternate.
That white alternate still sickens traditionalists. These sleeved jerseys are sure to do the same.
The NBA and adidas are experimenting with this new jersey style. They debuted with the Warriors this season and made it to several teams during Summer League. The reviews appeared to be mixed, but the NBA is going in this direction it seems and will continue the experiment. More teams this year will be donning these special jerseys. It is believed four or five teams will wear them.
A source told McMenamin that the Lakers will wear a white short-sleeve uniform and that there is the potential that the teams playing on Christmas Day could all wear short-sleeve uniforms.
The Lakers though are bastions of tradition. It is hard to mess with a jersey many people feel is pretty close to perfect. It is hard to find much to complain about with the Lakers' current uniform set. Change, it would seem, could only make the set worse.
Let the traditionalists gripe away. These things are not going anywhere.