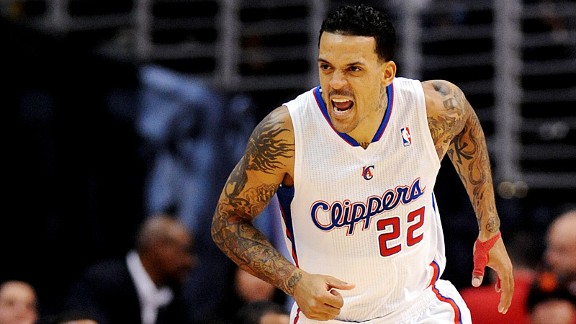 The losses keep piling up for the Los Angeles Clippers.
Not only did the Clips lose for the second-straight time this week to the Oklahoma City Thunder, 105-91, on Thursday night but now Los Angeles will be without Matt Barnes' services for at least the next two weeks.
As published reports have indicated Barnes will need surgery to repair a retinal tear in his left eye and will miss at least two weeks, the Clippers announced on Thursday night. The injury actually occurred during Monday's game against Memphis, and Barnes missed the following game versus Minnesota. For the veteran swingman, it is simply another set back in a long list of injuries: this is the fourth injury (quad, sore left calf, right thigh) Barnes has suffered since re-signing with the Clippers back in June.
While L.A. will miss Barnes' intensity on the floor and his 5.9 points (20 minutes per game), injuries translate to oppoortunity around the league leaving rookie Reggie Bullock the odds on favorite to garnish playing time in Barnes' absence.
"He's a good player," Head Coach Doc Rivers said of Bullock Thursday in Oklahoma City. "He wants to play. Doesn't complain. He's not happy when he's not playing, but he's never an obstruction. So, he's been great."
The loss to the Thunder by the Clippers — and the eye injury for Barnes — takes L.A. to 8-5 on the season, which is good for second best in the Pacific Division and sixth in the Western Conference.
"We just couldn't get it going, honestly," LA head coach Doc Rivers said after the game. "I thought our offense – our defense let us down by the end – but at halftime, I thought it was still more of our offense. The way we've played the last couple of games, with the ball movement and all that – that was all gone tonight."
And that is not all.
Now Matt Barnes is gone too.