The Big Three that rocked the NBA by signing together in 2010 — and then going on to be the East's representatives in the 2011 and 2012 NBA Finals — are going to break up in a year and a half. There is no other option for them.
The 2011 lockout and the CBA that came because of it dictates that teams that are multiple-time luxury tax payers get hit with a "repeater tax" penalty if they pay the tax for four out of five seasons. The Miami Heat will most definitely be hit by that penalty. And the deterrent might be too much for owner Micky Arison.
Here is why the breakup looks inevitable.
This season — 2012-2013 — the Heat's payroll is $84.15 million. That is well over the current salary cap of $58.044 million and the $70.307 million luxury tax level. And it is anticipated that next year's salary cap will be around the same amount, but the Heat will be close to $85 million should they extend qualifying offers to Josh Harrellson, Dexter Pitman and Terrel Harris. Finally, in the 2014-2015 season, they will have to spend more than $60 million just to keep their Big Three.
In other words, the Heat will have to go over the cap just to get enough players on the team to field a full roster.
The Miami Heat have paid the cap in every season since the Big Three were signed. Therefore, they are going to be hit by the repeater tax penalty.
Sports Illustrated's Ian Thomsen broke the math down in a very simple fashion: Assuming the luxury-tax line was $75 million a year, which as he says is "a highly optimistic outcome," then the Miami Heat would wind up paying a tax bill of $48 million.
In other words, to field 12 players — the minimum required by the NBA — they would have to spend $141.3 million. And we are not even talking about signing "quality" players to keep the team in title contention.
Can Miami Heat owner Micky Arison really stomach that kind of a bill?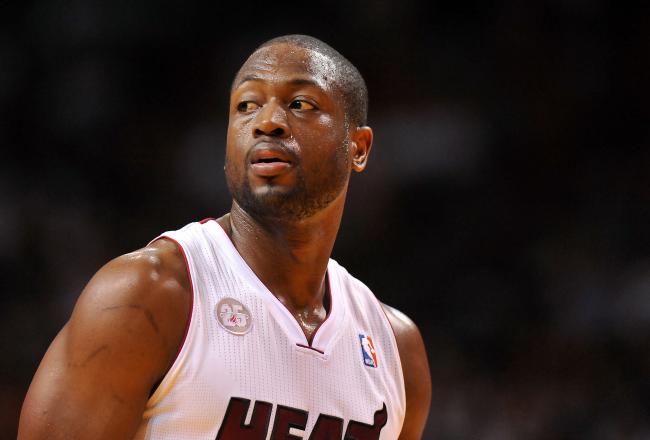 The Miami Heat are a middle-market team. While they are growing, they are not the Los Angeles Lakers or the New York Knicks. Those teams can stomach those massive types of contracts and the taxes that come with them. But Miami simply is not that type of a team.
So what can they do?
The first task is figuring out what the players are going to do. They each have player options in 2014 and 2015. LeBron James, for example, is going to be owed nearly $43 million if he takes his options.
Or does he opt out, looking for an even bigger contract? Miami could not possibly afford that.
What about Dwyane Wayde? He, too, is owed nearly $41 million should he take his options. Is he going to want something bigger? He could opt out of those two years and play the market. But that begs the question: Would he? Or, more importantly: Could he? He has decreased in production, so he might just take those two years since they are so much money. That would hurt the Heat tremendously.
Chris Bosh is in the same situation. He has $43 million owed to him if he takes both his options. That really would limit what the Heat can do.
But something has to be done because the Heat actually need five people on the court plus seven benchwarmers.
The Heat have their amnesty clause, but who would they cut? They do not have any players who make enough — other than their Big Three — to justify cutting. And remember, the team still pays the remainder of that salary even though it does not count against the cap.
That means they will have to cut one of their stars. But who should it be?
Theoretically, they could cut Wade because of his dropped production, but then he is gone. That is it. He cannot be re-signed at a lower salary. The Big Three are officially broken up.
Or … Could they trade one of the contracts away? And to who? And for what?
The real moral of the story is that Pat Riley, President of Basketball Operations, is in a tough situation. He brought together these amazing basketball players and there is a very good chance that, when he has to make up his mind, they will have just finished accomplishing a three-peat — a phrase that he has actually copyrighted.
The salary cap is not going to rise that much higher and, therefore, the Miami Heat are going to have to break up their Big Three. I would not want to be the guy who has to figure out how, that is for sure. It might be easier to stomach with a few titles in tow.
Jacob is the co-founder of Curave, a morning newsletter that sends out the best NBA stories from around the web.