Shaw tops former team

Nuggets 111, Lakers 99
At one time, Brian Shaw was largely considered to be Phil Jackson's heir apparent. He was the guy that would take over the lead chair when Jackson retired. Things did not work that way. Mike Brown took over that role as Jim Buss, taking over basketball decisions from his dad, wanted to make his own mark. Now Mike D'Antoni was in the lead chair.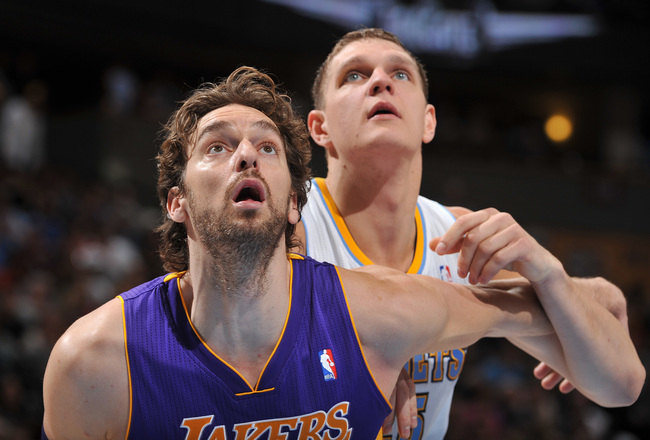 Shaw went through a bit of assistant coach Purgatory. He was the associate head coach on Frank Vogel's staff in Indiana. But he was waiting his chance — through seemingly endless interviews each summer — for his chance.
He has his shot at Denver. And against his former team, he showed what he is doing with this chance.
Timofey Mozgov scored 23 points and grabbed nine rebounds off the bench. Kenneth Faried added 21 points and Ty Lawson 19 as the Nuggets defeated the Lakers at Pepsi Center on Wednesday.
Pau Gasol had 25 points on 12-for-27 shooting. Los Angeles continues to be very up and down following the win Tuesday at home against New Orleans. The Lakers shot worse than 40 percent from the floor and did not have the fluidity or the pace to keep up with the Nuggets.
It is safe to say that the Lakers are still figuring things out with Kobe Bryant remaining on the sideline.
Rudy Gay leads Raptors charge

Raptors 103, Grizzlies 87
They say you cannot go home again. Rudy Gay sure tried. And he made something of a statement coming off an inefficient 34-shot performance in an overtime loss to the Rockets. Gay scored 23 points (albeit on 8-for-18 shooting) to lead the Raptors to a strong victory over the Grizzlies in Memphis. Memphis came around too late and found the same offensive struggles the team was expected to have. Mike Conley did score 29 points to lead the way.
Jazz notch first win

Jazz 111, Pelicans 105
The Jazz will not go 0-82. Every team in the NBA now has a win as Utah finally got off the schneid and picked up a much-needed win for Tyron Corbin and his crew. Gordon Hayward continued his torrid pace with 27 points and 10 assists to lead the Jazz to the crucial victory. Richard Jefferson had 22 points and Enes Kanter scored 21 as Utah won. The Pelicans will forever be known as the first for the year for the Jazz. Anthony Davis scored 29 points and 15 rebounds to lead the Pelicans.
Knicks hold off Hawks

Knicks 95, Hawks 91
Watching a Knicks game is not the prettiest thing in the world. Not anymore. The Hawks have never quite been the most entertaining team in the world. Still every win counts the same. The Knicks got a much-needed win getting a strong offensive performance from the beleaguered Andrea Bargnani. Bargnani had 20 points and 11 rebounds and Carmelo Anthony led the way with 25 points (on 25 field goal attempts).
Bobcats halts Celtics streak

Bobcats 89, Celtics 83
The Celtics went on a four-game tear after losing their first four games. That streak came to an end on the back of Al Jefferson. Jefferson scored 22 points and grabbed 11 rebounds to lead the Bobcats to a rough-and-tumble victory over the Celtics. Boston's hot shooting finally ran out as the team shot just 37.7 percent from the floor.
Rubio brilliant in win

Timberwolves 124, Cavaliers 95
The Timberwolves offense worked exactly how Rick Adelman must imagine it. Ricky Rubio produced a career-high 16 assists to go with his 16 points. Kevin Love had 33 points and Corey Brewer had 27 points as Minnesota shot 54.9 percent from the floor. The Cavaliers had 20 points from Kyrie Irving, but they could not get much going offensively. Or stop Rubio or the Wolves offense from going.
Clippers toughen up in 2nd half

Clippers 111, Thunder 103
Matt Barnes and Serge Ibaka engaged in a shoving match that got the two ejected from the game. At that point the Thunder were winning and dominating defensively. The Clippers turned in the second half and raced past the Thunder, holding off a late rally to secure the win. Blake Griffin had 22 points and Jamal Crawford scored 20 points off the bench. Kevin Durant scored 33 points but Ibaka's absence was noticeable after he scored 13 points on six field goals in the first half.
Afflalo scorches Bucks

Magic 94, Bucks 91
The Magic trailed the Bucks by 19 points in the first half. A Bucks team with only eight players available that is. Orlando needed a spark. It found one in Arron Afflalo. Afflalo scored a career-high 36 points and hit seven 3-pointers in the second half as the Magic charged back and took a big home win to snap a three-game losing streak. The hits got worse for the Bucks too. Caron Butler injured his shoulder after a collision with teammate Khris Middleton late in the game.
76ers stone Rockets in OT

76ers 123, Rockets 117, OT
Dwight Howard had a monster game for the Rockets. But he could not avoid the free throw line long enough though. Jeremy Lin had a monster game. But he could not hit a shot in overtime. Philadelphia did and Philadelphia could. And from surprising places. James Anderson scored 36 points on 12-for-16 shooting and Tony Wroten recorded a triple double with 18 points, 10 rebounds and 11 assists counteracting Jeremy Lin's 34 points and Dwight Howards' 23 points and 15 rebounds. A long field goal drought in the fourth quarter and overtime did the Rockets in.
Lillard helps Blazers past Suns

Trail Blazers 90, Suns 89
Phoenix looked about ready to cruise to a rare win at the Moda Center. Portland had other ideas. Damian Lillard stepped up late despite a poor scoring performan. He hit a driving layup on the Blazers' final possession to deliver a win to the hosts. The Suns had three opportunities at the basket to steal back the win, but could not convert and the Blazers held on. Thomas Robinson led Portland with 15 points.
Nets have no luck out West

Kings 107, Nets 86
Some people believed the Nets would possibly find themselves on a West Coast trip. Through this game against the Kings, we are still trying to figure this Nets team out. And they are still trying to come together. Sacramento took a 12-point lead at the half and expanded it from there. The Nets shot 37.8 percent from the floor. Only Brook Lopez seemed to play well too with 16 points, nine rebounds and five blocks. Sacramento got 24 points from Marcus Thornton in the win.
Parker does Parker in Spurs win

Spurs 92, Wizards 79
The Spurs got their normal production from their team in an easy win over the Wizards. But really they did not. Tony Parker scored 16 points. It was the absence of Tim Duncan that was conspicuous. He had two points on 1-for-12 shooting in this one and Parker had just one assist. Boris Diaw added 15 points off the bench. The Wizards really struggled though as only the backcourt duo of John Wall and Bradley Beal scored in double figures out of the first round.