One injury has set off a whole new discussion of what is "dirty" in today's NBA.
With three seconds left and his team down by two points, Kobe Bryant drove toward the baseline and pulled up for that fadeaway, contested jumper that he has made so famous. Hawks guard Dahntay Jones had the unenviable task of defending him and crowded Bryant's shot, giving him as little room to breathe as possible.
Bryant went up but had little room to come down. He landed awkwardly on his right ankle and fell to the floor immediately with what the Lakers called a "severely sprained ankle." He is out indefinitely now.
And Bryant did not hide his frustration after the game, flat out calling Jones and the play dirty:
I think officials really need to protect shooters," Bryant told reporters following the game. "You can contest shots, but you can't walk underneath players, that's dangerous for the shooter. "…I'm always conscious of it. When I go to contest shots I'm always very conscious about making sure I don't walk underneath them. It's just a very, very dangerous play. Especially if I'm fading away, there's no rhyme or reason why I should come down anywhere near somebody's foot.
Jones defended himself after the game, saying the play was not dirty because he was simply reacting to a skilled isolation player. There was no way for him to know what Bryant would do. Further, Bruce Bowen, known throughout his career for some dirty tricks, wondered why Jones continued to walk toward Bryant after contesting the shot. He feels Bryant has a point.
Was it a dirty play? Who knows what really was going on with Jones.
But it raises a fun thought: Who are the dirtiest players in the NBA? What qualifies as a dirty play?
There are several plays one might consider dirty. There are the moving screens that don't get called and the physical play coming from hardened veterans. There are the floppers who flail at the slightest touch. There are the guys who gesticulate their bodies while shooting to draw contact.
These are all varying degress of dirty. They get under opponents' skin and give their team every little advantage they can get. Is being dirty a bad thing? Review the dirtiest players in the NBA and judge for yourself:
Get out of my ear! — The Talkers
Kevin Garnett, Celtics: No player defines dirty in a more visible and emotional way than Kevin Garnett. His unending intensity is the kind of thing that teammates love to have on their team, but opponents hate to go up against. He gets under opponents' skin with his constant trash-talking and yelling.
More than that, though, he takes every inch he can, sometimes literally. Garnett is well known for throwing an elbow to someone coming around a screen or moving ever so slightly to set a pick before getting set. It gives the ballhandler a huge advantage.
Garnett's biggest impact though comes in the way he trash-talks his opponents. He does not even have to be playing and he can still get under your skin!
Metta World Peace, Lakers: World Peace has lost a little bit of the mobility that at one time made him the best defensive player in the league. One thing he has not lost is his ability to talk his way under your skin and get you to react. Metta World Peace probably gets in more shoving matches than anyone, and it feels like it is sometimes by design.
It helps that he is a pretty good defender, but, as his skills have diminished, the need to find that advantage has increased. He may not have as many dirty tricks as a Bruce Bowen, but his mouth is always going and as an offensive player, you have to really focus on the physical task of beating World Peace rather than the psychological warfare going on.
Cheap Shots — this category needs no explanation
Serge Ibaka, Thunder:
Nicolas Batum, Trail Blazers:
You just do not hit a man there, guys.
Quit your whining — The Complainers
LeBron James, Heat: Really watch LeBron James during an NBA game and see how he reacts to calls. He really believes he is the Chosen One.
James will work the referees for every single angle he can, and if there is a call that he does not believe was correct, he will let you know about it. His eyes will get wide, his face will brighten up some and he will huff and puff a little bit in reaction. Getting a technical foul, though? Nope, not a chance.
You would think LeBron James has little reason to complain about officiating at any point. After all, he once had a streak of six straight games this season without being called for a foul. Just think how many minutes he plays and how many opportunities for fouls that is.
Dwight Howard, Lakers: Maybe, Howard has a point, but he complains to officials a lot. Howard gets hit hard in the post almost every time he goes out there. And no one ever gets called for a flagrant foul against him. Howard has always vented his frustration to officials and routinely gets penalized for it.
Along with his moving screens, officiating Howard is very very difficult … and annoying.
Every dirty trick in the book — The "Tough" Guys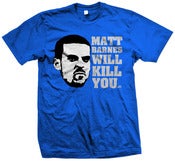 Matt Barnes, Los Angeles Clippers: Barnes once had shirts in Orlando made in his honor that simply said "Matt Barnes will kill you" with an angry Barnes face plastered next to the phrase.
Barnes is a physical defender who does everything he can physically to get under your skin. He is quick to have a temper and is not afraid to lash out. He is a great teammate, but not a guy you want to play against. Case in point, in February 2010, Barnes went toe-to-toe and challenged Kobe Bryant physically and mentally in a game in Orlando. Bryant than pushed the Lakers to acquire Barnes in free agency the next year.
Tyler Hansbrough, Indiana Pacers: Hansbrough knows just about every dirty trick in the book and just gets under people's skin with his relentless pursuit of the ball. He will keep fighting for loose balls long after the whistle and just wants to work hard and play hard.
That is a great thing. Hansbrough is a nice player. But he just goes too far sometimes.
Really? — The Floppers
Reggie Evans, Brooklyn Nets: He goes in the record book as the first player to be fined for flopping. Evans is hard-nosed player who goes after loose balls and gets on the glass. But, man, does he take some odd falls with little contact. For someone who is so tough on the glass, he knows how to fall like he has been hit by something on the smallest contact.
Zaza Pachulia, Atlanta Hawks: Pachulia has little offensive skill. To stay in the league for 10 years, Pachulia has developed a hard-nosed defensive mentality and the ability to flail and fall when going up against bigger players. He is great at using his six fouls and trying to get the other player into foul trouble.
Shooters touch — The Flailers
Kevin Durant, Oklahoma City Thunder: Kevin Durant is not nice. Proof? He has a rule made just for him. Durant used to sweep his arms through defenders as they tried to defend him and get to the foul line for two easy free throws. This is about as dirty as Durant gets, but he still tries it on occasion and referees still occasionally call it.
Jamal Crawford, Los Angeles Clippers: Crawford has taken the mantle from Reggie Miller and uses the infamous leg kick to draw fouls. He loves doing it on made 3-pointers especially and has the NBA record for most 4-point plays. That feels fishy, doesn't it? Crawford is good at getting his body flying out there and still making shots, causing defenders to give him even more room to score.