Malone looking for effort

Suns vs. Kings, 10 p.m.
Michael Malone's job was never going to be easy. Not with the baggage involved with the Kings and the task ahead of rebuilding a team that has become a perpetual losing franchise the last decade.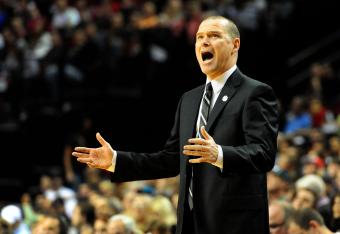 Still there was talent if they would just apply it the right way. So many teams ahve been able to outperform expectations so far this season just on pure effort and will.
The Kings are not one of those teams and the reason continues to confound the rookie coach.
After Sunday's 97-86 loss to the Grizzlies, Michael Malone was still looking for answers on who would give him consistent effort and energy, according to Jason Jones of the Sacramento Bee. It was not coming from his starters as they largely saw the bench from the third quarter on in the game. This is a fundamental question for a coach and not the kind of challeng eMalone thought he would face.
Still there is talent on the roster and hopes the Kings can turn it around. A little bit of effort can make for wins.
Blazers net seventh straight

Trail Blazers 108, Nets 98
Don't look now, but the Blazers have won seven straight games and have sent the Nets into a continued tailspin. After giving up 40 points in the first quarter, Portland stormed back and gave up 38 in the second and third including 15 points in the third quarter. That gave Portland all the control it needed and Brooklyn's lackluster effort did the rest. The New York media were upset to find out an hour after the game that Paul Pierce and Kevin Garnett would not speak to the media following the disappointing defeat.
Bulls asserting themselves

Bulls 86, Bobcats 81
The good teams are starting to assert themselves a bit more as the season continues to move along. The Bulls are making it known they are among those. Chicago, coming off the big win over Indiana, won its fifth consecutive game getting 21 points from Luol Deng in this typical Chicago grind-it-out game. The Bulls continue to build off their impressive wins and pull away a bit in the Central Division.
Mavericks hold on over Sixers

Mavericks 97, 76ers 94
The 76ers nearly completed a nice little comeback in the fourth quarter. Dallas' second half offense was too much though for Philadelphia to dig out of. Monta Ellis scored 24 points and dished out 10 assists. Dirk Nowitzki and Shawn Marion each added 20 points as the Mavericks held on for the win. Evan Turner scored 27 points and dished out seven assists to go with nine rebounds in defeat.
Hummel makes his mark

Timberwolves vs. Wizards, 7 p.m.
Robbie Hummel has had a long, winding career. Injuries stunted his stellar college career at Purdue and forced him to stay an extra year to use up all his eligibilty. His pro career was further marred by injuries and false starts. Now though he is playing for the Wolves and getting a true opportunity. Rick Adelman has been playing this young player and praising his ability to keep the game simple and doing the things he know he can do.
Disgruntled Asik to keep playing

Celtics vs. Rockets, 8 p.m.
Omer Asik, as expected, has asked for a trade out of Houston since he cannot get playing time behind free agent acquisition Dwight Howard. While the Rockets keep looking for a deal, Asik will have to do the only thing he can — play. Rob Mahoney of the Point Forward reports Asik will return to the team after a mysterious absence Tuesday. The trade request should not keep him from playing.
Grizzlies hold off Clippers

Grizzlies 106, Clippers 102
To protect their perfect home record, it seemed like the Clippers were constantly fighting an uphill battle. Memphis took the lead over Los Angeles and never really let go, continuing some road dominance on this West Coast swing. Zach Randolph dominated inside with 26 points and 15 rebounds and Mike Conly added 15 points as the Grizzlies controlled the game without ever really pulling away. It was really the final 12 minutes that did the Clippers in as the Grizzlies got inside and won the game in the final 12 minutes.
LeBron James named Player of the Week

Hawks vs. Heat, 7:30 p.m./NBATV
LeBron James was named the Eastern Conference Player of the Week after posting 34.0 points per game in three games last week. It is James' 44th time being honored as the conference player of the week. Miami, more importantly, went a perfect 3-0 in those games.
Nuggets drop one to Thunder

Thunder 115, Nuggets 113
The Nuggets looked like they had a win wrapped up. Kevin Durant happened and things changed. Oklahoma City outscored Denver 32-21 in the fourth quarter to steal a home win from a beleaguered Denver team. Kevin Durant scored 38 points, adding eight rebounds and six assists. Russell Westbrook scored 30 points to go with 12 rebounds and seven assists. Those two stars can obviously do a lot of damage. The Nuggets picke dup a stellar game from Ty Lawson with 29 points and eight assists.
Warriors cruise over Jazz

Warriors 98, Jazz 87
New city, pretty much the same results. The Warriors and Jazz played more or less a repeat of the Warriors blowout win Saturday. A 37-17 lead gave Golden State a comfortable lead and that was that. Stephen Curry scored 22 points and dished out eight assists before leaving the game after suffering a knock to the head. He said he will be all right. Gordon Hayward scored 18 points to lead the Jazz.
Melo: 'A lot going on' with Knicks

Knicks vs. Pistons, 7:30 p.m.
The Knicks are very much in turmoil as they try to break through this funk and squeeze out any type of momentum to begin building some wins and get back into the division race. The losing has shaken everyone up, Carmelo Anthony admitted to Al Ianozzone of Long Island Newsday. That is saying a lot for a team that had lofty expectations following their second-place finish in the East last year. Their continued struggles are a major story early on this season.