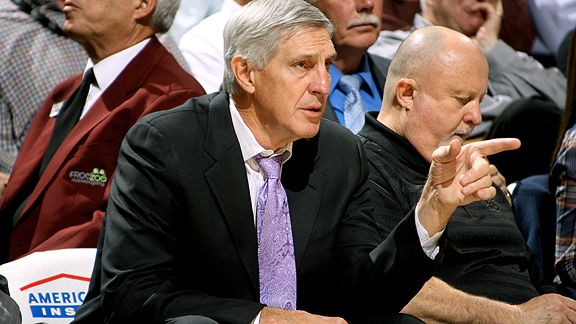 He never won an NBA title as a player.
He never won one as a coach.
For Jerry Sloan, perhaps that fortune will change as an executive or at least consultant now that he is officially back in the game after spending the last two seasons in retirement.
On Wednesday, the Utah Jazz welcomed back sloan in the role of "senior basketball adviser" it was announced in a press release by team President Randy Rigby.
Sloan's job description: support the Jazz basketball operations and coaching staff through player evaluations at workouts, camps, and summer league; limited pro and regional college scouting; occasional practice observation; and as host of an annual prep and college coaches clinic.
Sounds like the perfect hand-crafted position for someone of Sloan's stature and knowing he is not only a coaching icon in the NBA but truly was a pillar for the Jazz since joining the organization as an assistant coach in 1985, before taking over for Frank Layden in 1988.
"The basketball knowledge and experience that Jerry brings is invaluable, and his insights will help in our pursuit of becoming a championship-caliber team," said Rigby in the release. "We are pleased to formally welcome Jerry back into the organization as an adviser."
Brining back Sloan was also met with approval from head coach Tyron Corbin, who took over after Sloan resigned in 2011.
"I am glad Jerry is going to continue to be involved with our organization," said Corbin. "We will benefit from his wealth of basketball experience. I am looking forward to his continued contributions."
Sloan led Utah to 19 playoff appearances and two trips to the NBA Finals thanks in large part to the dynamic duo of John Stockton and Karl Malone. While Sloan's name has been speculated in a return to the sidelines during the vacancies of a couple of head coaching gigs, it is really only fitting that the Jazz are keeping him in their family, especially knowing he was the patriarch in Utah for more than 26 years.
"I've never done this before," Sloan told the Salt Lake Tribune. "But hopefully I can be some assistance to different people in different situations."