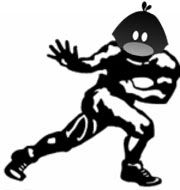 Week two of the College Football Season is over and it was highlighted by a couple of great games in South Carolina/Georgia and Michigan/Notre Dame. Last week we debuted the 2011 version of the Bloguin Heisman Poll at College Football Zealots. This week we have made the move over to Crystal Ball Run for the remainder of the season. We realize it's a little bit early to start the Heisman discussion but this is college football, where pre-mature assessments and discussions are an annual tradition. So tighten your chin strap, let's talk college football and let's talk about the best players so far this season…
Here is what you'll see each week in the Bloguin Heisman Poll:
-The Top 5 total vote getters and quotes from bloggers in support of their candidates.
-A list of all players that receive votes in the Bloguin Heisman Poll
-Poll Notes that look at some of the interesting facts, figures, and trends of the poll.
-The BHP Roll Call of voters, the links to their respective blogs and their twitter accounts.
Without any further adieu, the Bloguin Heisman Poll…
1) Andrew Luck (QB-Stanford) – 19 Points, 18.63%, 5 1st Place Votes
Last Week: 20/28, 290 yds, 4 TD, 1 INT
Season: 37/54, 461 yards, 6 TDs, 1 INT; 1 rushing TD
This Week: at Arizona
* Luck's Heisman hopes took a hit when he threw an interception against Duke. OK, not really. Luck is still the best quarterback in the game and he's still the Heisman favorite. He still completed 20-of-28 passes for 290 yards and four touchdowns.
– Tom Perry, Eye and Eer
* Sure the lowly Duke Blue Devils picked him off but Luck was still quite impressive in throwing for 290 yards and two touchdowns. By the way, the pick came off of a deflection so you can't put the entire onus on him.
– Ian Bethune, Sox and Dawgs
* Mr. Luck has passed for nearly 500 yards and accounted for seven touchdowns, six through the air. Let's see how he does against the upcoming PAC-12 slate of games. Can the Luck continue?
– Hamilton Riley, Lambeth Field
2) Marcus Lattimore (RB-South Carolina)- 14 Points, 13.73%, 2 1st Place Votes
Last Week: 27 rushes, 176 yds, 1 TD, 6.52 ypc
Season: 50 rushes, 288 yds, 4 TD, 5.76 ypc
This Week: vs Navy
*The most impressive performance of the week had to be Marcus Lattimore basically beating Georgia single-handedly. Lattimore has the potential to be a serious candidate if Steve Spurrier shows a commitment to handing him the ball and letting him carry this team into contention in the SEC. His 176 yards and 1 TD show he could be this year's Mark Ingram in the race.
– Ryan Yoder, Awful Announcing
*Lattimore was a workhorse in carrying his team to a victory Between the Hedges on Saturday. He finished with 174 yards and a touchdown against Georgia and has 286 yards on the season with four touchdowns. Lattimore is not flashy. But he is productive and perhaps the most valuable non quarterback player to his team in college football right now. Through two weeks, he gets my vote as the Heisman leader.
– Kris Brauner, Saturday Night Slant
3T) Robert Griffin III (QB-Baylor) – 11 Points, 10.78%, 2 1st Place Votes
Last Week: Idle
Season: 21/27, 359 yards, 5TD; 38 rush, 1 Rec.
This Week: Stephen F. Austin
*I didn't see anything this week that causes me to drop Griffin off the top spot after a Baylor bye. As crazy as it seems, RG3 can be this year's Cam Newton. The two QBs have a similar skill set and Newton was nowhere on the Heisman radar to begin the season and yet ran away with the trophy. If that's to happen for Griffin, Baylor will need to win a lot of games they never have before.
– Matt Yoder, Awful Announcing
*I know he didn't play this week, and I don't care. I'm still not over that performance against TCU.
– Aaron Torres, Aaron Torres Sports
3T) Kellen Moore (QB-Boise St) – 11 Points, 10.78%, 2 1st Place Votes
Last week: Idle
Season: 28/34, 261 yards, 3 TD
This Week: at Toledo
* Moore remains the engine behind the Broncos' well-oiled machine. Boise is nowhere near the top of the polls without him.
– Allen Kenney, Blatant Homerism
* Though he didn't play, Georgia did and what we learned in that game is South Carolina couldn't do much against a depleted Dawg D and won the game on special teams making Kellen's 3rd and 4th quarter domination of the Dawg D all the more Impressive.
Darth Prophet, The Blue Turf
4T) Russell Wilson (QB-Wisconsin) – 9 Points, 8.82%, 1 1st Place Vote
Last Week: 17/21, 189 yds, 2 TDs; 62 rush, 3 TD;
Season: 27/34, 444 yds, 5 TD, 0 INT, 73 yds rushing, 1 rushing TD
This Week: vs NIU (in Chicago)
* The former North Carolina State standout had another big week in the Big Ten as the Badgers shut out Oregon State. Bret Bielema has to feel he hit the lottery when Wilson chose to transfer to Wisconsin.
– Tom Perry, Eye and Eer
* Wilson moves up a spot with another impressive performance, showing that Week 1 was no fluke. He was 17 of 21 and threw for three more touchdowns in an impressive 35-0 win against Oregon State. For the season, Wilson is completing 79% of his passes with five touchdowns and no interceptions. Some QBs around the country may have bigger numbers, but I'm not sure that anyone has been as impressive as Wilson.
– Kris Brauner, Saturday Night Slant
4T) Justin Blackmon (WR-Oklahoma State) – 9 Points, 8.82%, 0 1st Place Votes
Last Week: 12 rec, 128 yds, 2 TDs
Season: 20 rec, 272 yds, 2 TD
This Week: vs Tulsa
* While Robert Woods turned heads in Week 1, the real best WR in the country did it in Week 2. Blackmon helped Ok. St. dominate a good Arizona team by being the most impressive athlete on the field by a wide margin. If his coaches would deploy Blackmon more in the return game, it would only help his long-term Heisman stock.
– Ryan Yoder, Awful Announcing
* The best wide receiver in college football. He's averaging 10 catches a game and 136 yards per game through the first two. It's about time he got the national recognition he deserves and a great performance on Thursday night will certainly help.
– Matt Yoder, Awful Announcing
5) Landry Jones (QB-Oklahoma) – 7 Points, 6.86%, 1 1st Place Vote
Last Week: Idle
Season: 35/47, 375 yds, 1 TD, 0 INT
This Week: at Florida State
* It's a quarterback award, and Jones is going to rack up huge numbers for the #1 team in the country. He'll get his first big chance to shine or falter in this Saturday's road showdown with #5 Florida State.
– Dale Newton, The Duck Stops Here
Also Receiving Votes: Brandon Weedon (QB- Oklahoma State) 4 pts, Denard Robinson (QB- Michigan) 4 pts, Case Keenum (QB- Houston) 3 pts, T.Y. Hilton (WR- FIU) 3 pts, Tyler Bray (QB- Tennessee) 3 pts, Bernard Pierce (RB- Temple) 2 pts, Robert Woods (WR- USC) 1 pt, Brandon Herron (LB- Michigan) 1 pt, Geno Smith (QB- West Virginia) 1pt
Dropped Out: Dominique Whaley (RB- Oklahoma), Ryan Broyles (WR- Oklahoma), Tyrann Mathieu (CB- LSU), Danny O'Brien (QB- Maryland), Kendall Wright (WR- Baylor)
New to the Poll: Denard Robinson, T.Y. Hilton, Tyler Bray, Bernard Pierce, Geno Smith
Poll Notes
– Half of the players in last weeks Top 6 were idle this week. RG3 fell the hardest as he dropped from 31.07% of the vote down to 10.78%. Kellen Moore dropped from 17.48% to 10.78%. Landry Jones stayed fairly steady as he dropped from 8.74% to 6.86%. Out of sight, out of mind.

– 4 of the 5 players who dropped out of the ballot were idle (Whaley and Broyles of OU, O'Brien of Maryland and Wright of Baylor).
– Last week only QBs received first place votes. This week Marcus Lattimore (2) and T.Y. Hilton (1) broke that trend as they both received first place votes.
– Out of all players receiving votes 9 play QB (1 more than last week), 3 WR (1 less than last week), 2 RB, and 1 LB.
– Unlike last week, all of our "featured" players in the Top 5 will be active this week.
– Marcus Lattimore made quite an impression on our voters with the way he finished against Georgia last week. The last three RBs to win the Heisman Trophy? Mark Ingram of Alabama (2009), Reggie Bush of USC (2005), Ron Dayne of Wisconsin (1999) and Ricky Williams of Texas (1998)
– The second runner-up for the 2010 Heisman Trophy, RB LaMichael James of Oregon, is still noticeably absent from the ballot.
– An interesting trend in this weeks ballot is that the leader is much closer to the field than they were last week. In week one RG3 had a 13.59% lead on second place Kellen Moore. This week only 4.9% separte first place Andrew Luck and runner-up Marcus Lattimore.
Bloguin Heisman Poll Roll Call
Aaron Torres Sports– Aaron Torres (@aaron_torres)

Awful Announcing– Matt Yoder (@myoder84)
Awful Announcing– Ryan Yoder (@RYbbc34)
Bama Sports Report– Ell (@ellbama)
Bearcats Blog– Scott (@bearcatsblog)
Blatant Homerism– Alan Kenney (@blatanthomerism)
College Football Zealots– Kevin (@CFBZ)
College Football Zealots– Pete Sonski (@PSPRGuy)
Eye and Eer– Tom Perry (@eyeandeer)
In The Bleachers– Michael Felder (@InTheBleachers)
Lambeth Field– Hamilton Riley (@lambethfield)
Leftover Hot Dog– Ritch (@LOHDgamecocks)
Nittany Lions Den– Kevin McGuire (@TheNLD)
Saturday Night Slant– Kris Brauner (@snslant)
Sox and Dawgs– Ian Bethune (@soxanddawgs)
Sun's Stuff't– Jamie Gilkey
Tetreault Vision– Joe Tetreault (@JoeTetreault)
The Blue Turf– Darth Prophet
The Duck Stops Here– Dale Newton (@Dale_Newton)