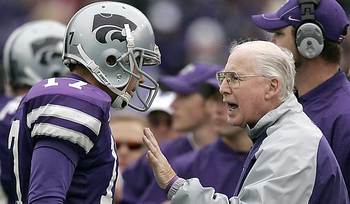 Kansas State head coach Bill Snyder doesn't strike me as the kind of guy you'd want to grab a beer with. He's more like the mean grandfather who rags on your parents for not spanking you enough as a kid.
He's incredibly unlikeable. He's also reminding us all this season that he is without a doubt one of best college football coaches of all time.
First, he took K-State in the early 1990s from the laughingstock of college football to a team that annually challenged for the Big 8/Big12 conference crown. Now, Snyder's rebuilding after a brief sabbatical in which Ron Prince damn near burned the entire program down.
The Wildcats' latest streak of wins over Miami, Baylor and Missouri won't go down as some of their best ever. However, they do go to show that Snyder's capacity to build a team that outperforms the sum of its parts is unmatched.
Seriously, take a look at the KSU roster. Per usual, Snyder has stocked his team with JUCOs and castoffs from other programs and under-recruited players who didn't get a shot elsewhere. After receiving a handful of carries this season, Bryce Brown, the former all-world recruit who transferred in from Tennessee and was expected to carry the KSU offense, has already left school to try his hand at the NFL.
And, yet again, Snyder's squad is exceeding expectations, racing out to a 5-0 record. The Wildcats are knocking on the door of the top 15 and appear to be headed for a finish in the upper half of the Big 12 and second straight bowl bid.
That may not sound like much – until you go take a look around Manhattan and see what the Prince of Darkness is working with on the recruiting trail.
Who knows how much longer Snyder will stick around the coaching ranks working his dark arts. Chances are that in a couple more years, he'll fade back into the shadows, leaving his program to the next guy who dares try to fill his orthopedic shoes. (Hopefully for K-State fans he's not the next Ron Prince.)
I can't say that I'll miss Snyder when he's gone from the game. He scares me on levels that go beyond watching my favorite team square off with him once a year.
But I also can't say that we'll ever come across a college football coach who can do more with less. I may not like Snyder, but that counts for something, right?