Albert Einstein said it, Mike Leach honed it and many college football programs across the country abide by it.
Insanity: Making the same hire over and over again while expecting different results.
As the regular season ends – and even before then – the college football coaching vacancies are opening in a flurry of activity.
As threatening as it may appear to some, the one name you can guarantee will be included in any rumor of potential "coaching candidates" is the name of one Mike Leach.
Quite frankly, it is about time Leach roamed a sideline with his folded up "play card" – reciting from memory what, to him, is simple, but is anything but that in the eyes of opposing defenses. You see, Leach views each adversary – on or off the field – as a problem he has to solve. In his book Swing your Sword, Leach details from his first orientation at Pepperdine University, when one of his professors said that as a law-student, Leach would get a degree in case memorization or rule memorization.
Instead, Leach earned an education in problem-solving.
Quirky: Characterized by peculiar or unexpected traits.
At some point early in his career, Leach knew he had to showcase himself, his offense, his smarts. Yes, Leach is smart; some even use the word "genius" when describing him. Being two steps ahead of whomever Leach determines as a "problem" is what he has always been able to do with skill and cleverness.
Leach also enjoys attention, though he may say otherwise. Thus, the trepidation some schools have shown in hiring the former Texas Tech architect is noted, and understood.
From the ongoing legal issues he is entangled in with from his time as coach at Texas Tech to his invariant ability to become the news himself, Leach gives cause for pause from any athletic director's point of view.
Brave: Ready to face and endure danger or pain; showing courage.
Some school, one day, is going to step out onto the ledge and show the boldness needed to select Michael C. Leach as its new head coach. If his resume is any indication, that school will reap an accordingly large reward by hiring one of the great innovators in college football history. Of course, that school won't be getting a coach with the usual background, either.
Leach graduated with honors from BYU in 1983 and then earned a master's degree from the U.S. Sports Academy before getting his law degree from Pepperdine. During his time in Malibu, Calif., the mad scientist was born and college football would never be the same as a result.
The beginning of Mike Leach as head coach was as eldritch as his pirate-loving, deadpan-dropping persona. In 1989, Leach got his start in Pori, Finland, where he was head coach in the European League.
The move to Europe was a step up from his two previous stops, which were also uncanny for their deviation from a traditional football lifer's script. In 1987, Leach was offensive line coach for Cal Poly-SLO. A year later, he was linebackers coach for the College of the Desert. Seriously.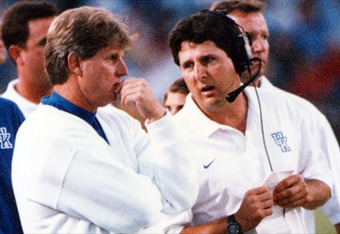 Leach was teamed with Hal Mumme, for the first time, in 1989, when Mumme hired Leach to be his offensive coordinator at Iowa Wesleyan College, an NAIA school. There, the two wizards of the Air Raid saw passing records, 26 of them to be precise, fall by the wayside during their three-season stint. The Mumme-Leach team then traveled to Valdosta State. During a five-year stay at Valdosta State, Leach helped Mumme guide the Blazers to a 40-17-1 overall record. More passing records fell, 80 of them, and the Leach name began to garner more notoriety when he was named Division II Offensive Coordinator of the Year.
In 1997, Hal Mumme was hired as the new Kentucky Wildcats head football coach, with Leach as his new offensive coordinator. At Kentucky, a school not known for football prowess, Leach helped guide an offense that set six NCAA records, 41 SEC records and 116 school records. This all was done in 22 games by Leach, who was hired by Bob Stoops at Oklahoma to be the Sooners' new offensive coordinator for the 1999 season.
The record-setting theme that followed Mike Leach wherever he went continued in Norman. He was there just one season, but the Sooner offense still set six Big 12 Conference and 17 Oklahoma records. The year prior to Leach's arrival, the Sooners were dead last in the Big 12 in passing offense. Leach guided the Sooners from worst to first, adding on average 133 yards of total offense per game.
Texas Tech then made the move to hire Leach to become its newest head football coach. Before Leach's arrival, Texas Tech had just two nine-win seasons in the preceding twenty years. Eighty-six years of football history are a matter of public record, and yet when you hear "Texas Tech," you still think "Mike Leach." Leach led Texas Tech to winning seasons every year from 2000, when he was hired, to 2009, when he was fired.
Journey: An act of traveling from one place to another.
There have been, to date, sixteen college football openings in the FBS ranks. Will one be willing to roll the dice with Leach?
*Kansas is one of the latest to join in on the coaching carousel by axing Turner Gill after two losing seasons. Hiring Leach in a familiar conference would be dynamite, but one has to wonder if the Jayhawks, who are on the hook for $6 million to Gill, can afford him.
*Reports are out now that Arizona State will fire head football coach, Dennis Erickson. Personally, there is something that fits here for Mike Leach. I believe if Leach had the crop of talent that Erickson had to work with this past season, there is zero way that team finishes 6-6. The Sun Devils are more likely to go after a Mike Bellotti, Kevin Sumlin type, though.
*Florida Atlantic has said goodbye to the retiring Howard Schnellenberger, and back as far as August of this year, Mike Leach was rumored to be the next FAU head coach. If offered, Leach would have an interesting decision to say the least. He would be coaching in the state of Florida, where there is talent to go around at a school with no real expectations. FAU won a single game this season, so it goes up from there.
*Tulane, which fired Bob Toledo, is now in the middle of a coaching search. Like clockwork, Leach's name appeared. However, Leach has said he was not in serious talks with Tulane.
*Illinois fired Ron Zook after the Illinois Fighting Illini followed a 6-0 start with a six-game losing streak. For what it's worth, there is already a "Mike Leach for Illinois Football" Facebook page.
*Cross off Penn State. It's very much a stodgy establishment school.
*It would appear that Auburn offensive coordinator Gus Malzahn might have his pick of North Carolina or Mississippi. Leach has, however, expressed an interest in the job at Ole Miss.
*Following a 38-21 defeat in the Apple Cup, could Washington State pull off a coup? If the Cougars hired Leach, they would.
Paul Wulff, who is expected to be fired by Washington State, has been nothing short of a disaster for the Cougars. Under Wulff, Washington State compiled a 9-40 overall record, and athletic director Bill Moos, who is just 18 months into his job, has plans in place to completely renovate tiny Martin Stadium. Regents recently approved an $80 million stadium project, so it would make sense that Wazzou would need someone to energize the fan base to help to raise funds. Enter Mike Leach.
Doesn't this hire just make sense?