Georgia Tech fired defensive coordinator Al Groh. The Yellow Jackets have allowed 30.2 points per game (91st in the nation) and 431.0 points per game (92nd). They have allowed 42 points or more in each of their last three games. [
Atlanta Journal Constitution
] An interim defensive coordinator is expected to be announced Tuesday afternoon during a 3:30 p.m. press conference. ESPN.com's
Heather Dinich reports
the most likely candidates for the job now appear to be defensive assistants Charles Kelly or Andy McCollum.
Will this change be enough to save the job of head coach Paul Johnson? The temperature seems to have been rising for Johnson in recent weeks.
Today is the day former Penn State assistant coach Jerry Sandusky will be receive his sentencing after being found guilty on 45 out of 47 counts related to sexual abuse of minors. Sandusky is expected to speak on his own behalf in an attempt to receive a lesser sentence or perhaps even receive a mistrial, but he has already released a statement asking for others to consider the flaws of his trial. The full audio of his statement can be heard via Penn State's ComRadio.
BYU and Oregon State face each other this week but neither will be at full strength. BYU quarterback Taysom Hill will undergo surgery on his left knee and will miss the remainder of the regular season [AP]. The Beavers will be without their quarterback as well. Sean Mannion is out indefinitely following an injury to his left knee during a win this weekend over Mike Leach's Washington State. Reports say surgery will be needed but the extent of the injury has not been released. [AP]
Hawaii and Boston College are getting "Wounded Warrior" uniforms from Under Armour. Boston College will wear their uniforms on October 27 against Maryland. Hawaii will wear their uniforms on November 24 against UNLV. [Lost Lettermen]
CBS is recording some really good numbers from their weekend programming between SEC football and the NFL. Saturday's Florida-LSU game received a 4.7 overnight rating with an 11 share, up 42 percent from last year's meeting between the two schools.[Fang's Bites]
Is Charlie Weis already looking forward to 2013? Kansas practiced on Sunday without seniors. [Dr. Saturday]
A day in the life of a referee during a Florida game.
Image of the Day
Virginia is building a new indoor practice facility for their program, but it happened to catch fire yesterday.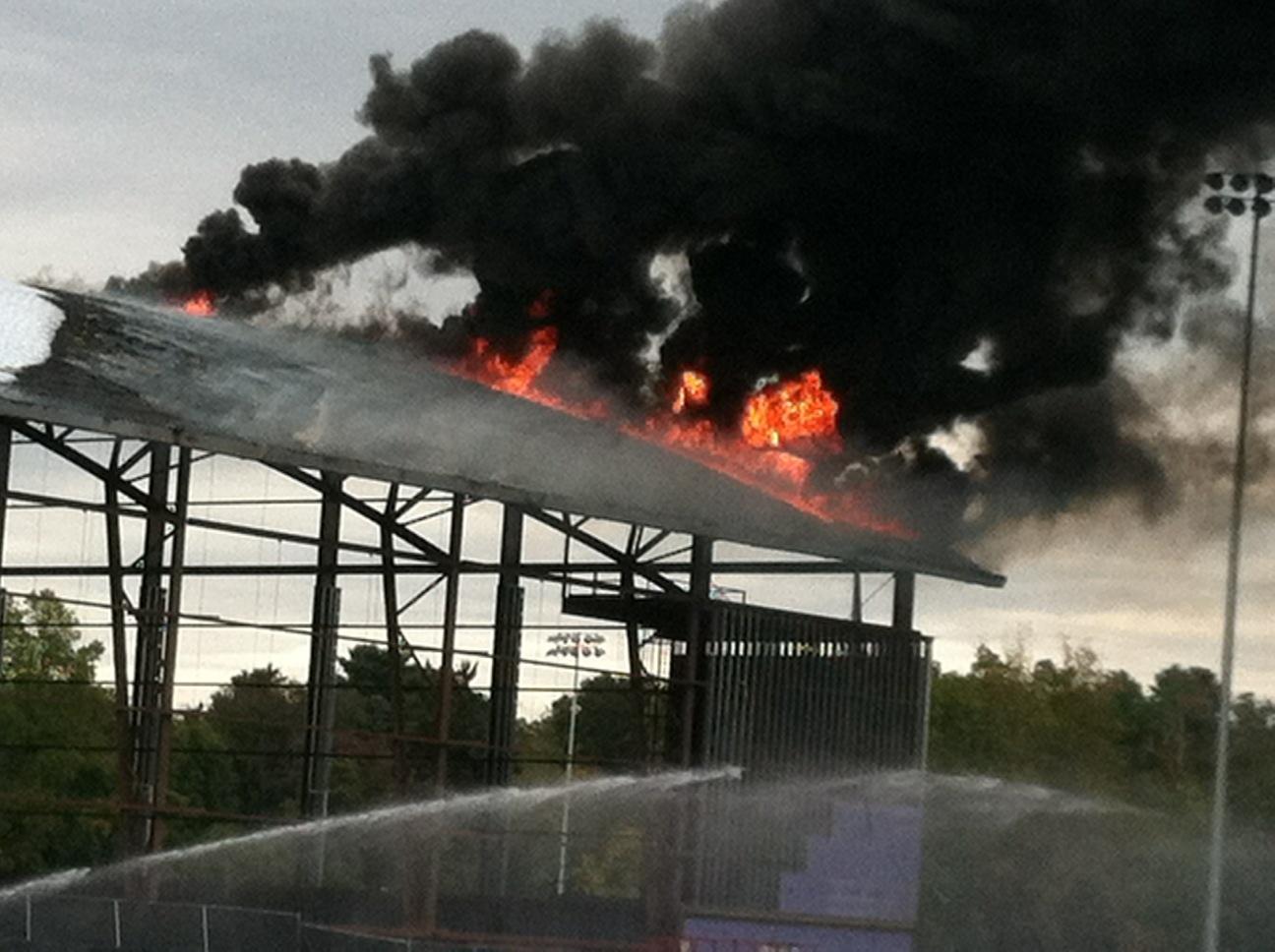 Tweet of the Day
Louisiana Tech is putting together a pretty special season with a 5-0 start, cracking the top 25 polls this week and preparing to host a ranked Texas A&M team this weekend. A win could really make things interesting for Louisiana Tech down the stretch, but head coach Sonny Dykes is not focusing on those potential BCS scenarios that could pop up later on.
La Tech coach Sonny Dykes asked today about BCS. "I do not even know how to spell BCS. That is like miles and miles away from our thoughts."

— Stewart Mandel (@slmandel) October 8, 2012
Video of the Day
Before we officially get set for next weekend's schedule of games, it is time for one more look back at some of the top plays from week six, via No 2-Minute Warning. This week we go Gangnam Style!
http://youtube.com/watch?v=xL5bdKpLUjw?feature=player_embedded