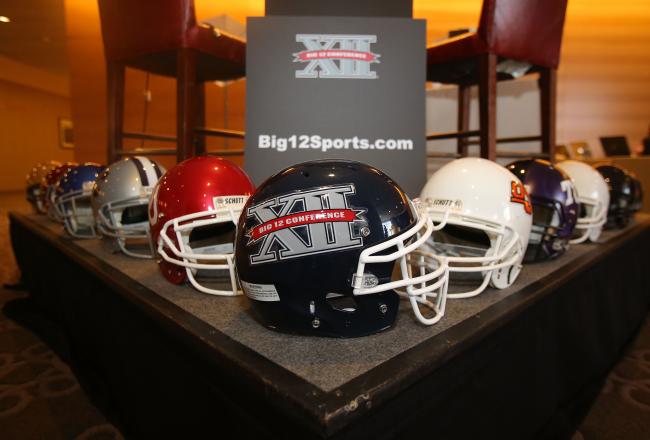 Hard to believe, but we've already completed the Big 12 Media Days in Dallas, TX. I mean it seems like just yesterday we were previewing what was to come… Oh wait, it's only a two day event? Wow, how time flies when you are having fun in the new look Big 12.
A lot of attention on day one was focused on the newcomer TCU, but before they got going new commissioner Bob Bowlsby kicked things off. It was your typical conference commissioner hype about how great their conference is until a certain topic was brought up – one about scheduling tougher non-conference games.
"It is not satisfactory to lose a game in September and be taken out of the national championship dialogue," said Bolwsby. "I think if the University of Oregon had to do it over again, they might not have played that game against LSU last year, because they fought back from behind for the entire season as a result of it."
He went on to talk about making sure that they encourage those types of games and that September as good as the months of October and November as the playoff system comes on board in 2014.
"I think September is a part of the season that we use to get teams ready to play the rest of the season. And so playing a steady diet of top 25 teams is not necessarily what any coach wants to do and in most cases is not what's required to get a team ready to play in the conference schedule," said Bowlsby during the Q&A with the media.
Of course the other topic that really garnered attention was the constant drone of expansion with the Big 12 sitting at 10 members. Well, I think we got our answer when Bowlsby stated: "I don't know if we'd get two votes for moving to a larger number."
But he wasn't the only star, so let's take a look into some of the highlights of the Big 12 Media days, shall we?
TCU:
Things got kicked off on the team front with one of the two newcomers, the Horned Frogs. Needless to say they are happy to have a stable home and one that's financially beneficial to them.
"Well, I would say this to you, and I've kind of used this line, I think Fort Worth, before we play a ball game, wins. I think before we play a ballgame, TCU wins," said Head Coach Garry Patterson.
With being the new kids on the block, some question if they can compete, but Head Coach Garry Patterson doesn't necessarily question that, "Do we want to win the conference championship? Yes, we do," he said. "Every time every head coach is going to sit up here should be able to say the same thing. And that's what your goal is. Do we want to play some day for a national championship? Yes, we do."
Things weren't all serious for the Horned Frogs head man though, as he was asked about the 2005 victory over the Sooners, saying back: "Are you trying to make Coach Stoops mad at me again (laughter)?"
On the serious note though, Patterson did have this to say about the win over Oklahoma: "But people, you look back, you have to learn from history, but the bottom line to it is you can't look back too long."
Oklahoma:
For the Sooners the question mark entering this season is at WR and Head Coach Bob Stoops spoke about that, saying:
"That's going to be a big part of what we're doing here in two-a-days. Two guys I know that were awfully — Kenny Stills has been a mainstay for us for a number of years. And we were expecting Kenny to have a great year. And Tre Walker is a guy we didn't have a year ago that had a great spring consistently in every practice, in every scrimmage we had, really showed up, made competitive plays. So he's another guy that we're going to really count on."
The other big story is getting brother Mike Stoops back to coach the defense.
"I'm excited to have Mike back for a number of reasons, not only personally, but professionally," said the elder Stoops. "When we've worked together, it's been pretty positive, when you look at our years either competing at Iowa together as players but also the years at Kansas State coaching defense together, his first, whatever, five, six years with us at Oklahoma up to 2003. We did pretty well overall."
As for big-time, all-time winningest QB in school history, Landry Jones? Well, a lot of the talk centered around the fact that he's now married. It may have also provided the quote of the day courtesy of his center, Ben Habren, who said, "He's a lot happier now. It's not hard to figure out why," when asked about the difference between single and married Landry Jones.
Iowa State:
The media have really taken to Paul Rhoads and that's not a hard thing to understand since he's a pretty straight shooter and a nice guy, something the media tend to like – as much as they love controversy too. They were disappointed to see him clean shaven though, as David Ubben pointed out at ESPN.com
One thing was clear from Rhoads at this Media Day, he really and truly believes this is the best Cyclone football team he's had since arriving in Ames four years ago.
"Our football team through three seasons has experienced great growth and development, and I think as we head toward this season we'll put our most talented football team on the field as we once again face a schedule that all if not most will rank as one of the top five toughest in college football."
He also talked about what the win over Oklahoma State (who was ranked 2nd in the nation coming into the game) did for the program, saying "I think the most significant component of that victory for our football program has been national attention. And you play that game on a Friday night at a point late in the season that affected the BCS race, and you got the whole nation talking about it all weekend long."
For Cyclone fans the biggest question is Steele Jantz or Jared Barnett at QB and that was a huge focus of the press conference.
"If we're going to be a better offensive football team, which is very important in this league to be a better football team, it's going to take better quarterback play," said Rhoads.
At least we weren't left hanging as to a decision time-frame with coach Rhoads telling us they will have a decision before the Sept. 1st opener against a tricky Tulsa squad.
"We'll have three scrimmages at that point where I'll probably make my decision, and those scrimmages play out on a Saturday/Wednesday/Saturday, and it will give those boys ample opportunity to show they deserve to be our starter September 1 against Tulsa," said Rhoads on Monday.
He also noted that potential stud RB Shontrell Johnson, who suffered a major neck injury last season, has been cleared to play this year.
Texas Tech:
Not many feathers were ruffled on day one, but if there were any it came from Texas Tech head honcho Tommy Tuberville who took a shot at the departed Missouri, saying "it was not conducive to being safe." (Missouri did replace it this offseason)
Art Kaufman has been hired to run the defense in Lubbock and Tuberville sees his experience as a key to helping rebuild the defense. "And Art's been there. We went through a lot of the same scenarios while we were at Ole Miss together," said Tuberville. "He did the same thing in the ACC the last few years of seeing different teams in that league each week."
Otherwise there really wasn't a whole lot out there of note from Tuberville.
Kansas State:
The Silver Fox a.k.a Bill Synder is one of the more quotable coaches in the conference and he didn't disappoint yesterday, talking about his now married QB Collin Klein and if he was surprised by how he matured into one of the league's best QB's last year.
"I'm too old to be surprised," Snyder said. He continued even stronger. "Believe it or not, it's not my modus operandi to place expectations on young guys in regards to their performance level."
Seriously, how could you not get the best out of your players no matter the "expectations" placed on them by others with an attitude like that? I know I'd want to play for the guy.
Stay tuned for Part 2 later today…