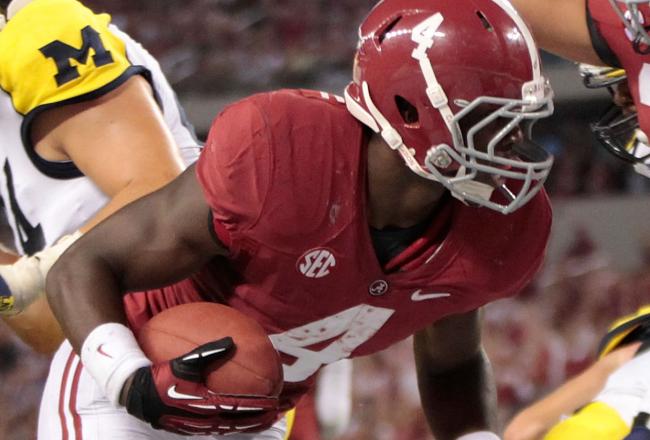 After all of the hype that goes into recruiting and ranking the classes, it's interesting to take a look and see what type of impact these players have.
Some become immediate stars, while others quickly become question marks.
While Missouri receiver Dorial Green-Beckham hasn't been an immediate star, you can see where he should develop into something really special.
But these five freshmen are not only showing us their potential, but that they belong right now.
Todd Gurley, RB, Georgia
When Georgia suspended Isaiah Crowell, who started last year as a freshman, the Bulldogs were never concerned.
They have Keith Marshall, but Gurley is the guy who is going to be the future at running back.
Gurley has nine touchdowns and 575 rushing yards, as he likes to punish defenders with his tough running style.
T.J. Yeldon, RB, Alabama
Alabama has Eddie Lacy at running back, so T.J. Yeldon is just more proof the Tide is overflowing in talent.
He's averaging close to 6.0 yards a carry and has two touchdowns, but with each game his coaches gain more confidence in him.
If you are a fan of the Tide, you have to love what Yeldon means for the future of the offense.
Johnny Manziel, QB, Texas A&M
Coach Kevin Sumlin's offense can skew a quarterback's statistics, but following the graduation of Ryan Tannehill the Aggies needed someone to step up.
Welcome Manziel, who has thrown for 1,285 yards and 11 touchdowns with a 69 percent completion rate.
He's also a dangerous runner who has 495 yards on the ground and seven scores.
Karl Joseph, S, West Virginia
WVU's defense has been torched all season, and if the Mountaineers don't win the Big 12 the defense will likely get the blame.
While Joseph has been torched at times, he has also shown great promise with some huge hits this fall.
He's just another great find in Florida for the WVU coaching staff and he's going to become a star in the near future.
John Theus, OL, Georgia
I can't believe I'm going back to Georgia after the whipping the Bulldogs took at South Carolina this weekend.
He has the chance to join Georgia greats Matt Stinchcomb and Guy McIntyre on the all-time list of best linemen for the Bulldogs.
For a true freshman to step in and play on the line in the SEC, much less Georgia is no easy task.