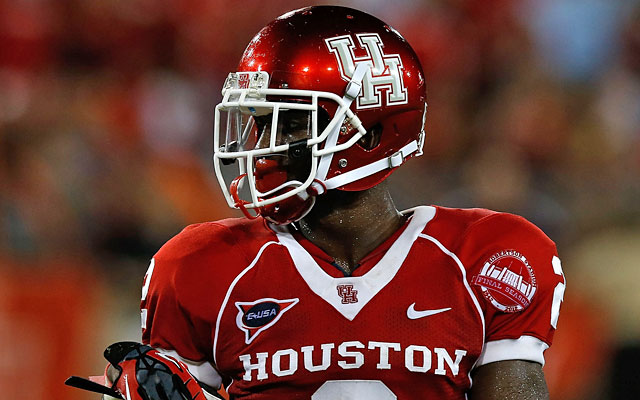 The Houston Cougars season has taken a sad turn.
Cornerback D.J. Hayden is listed in critical but stable condition after undergoing emergency surgery on Tuesday evening to repair a torn blood vessel in his body.
Hayden, a senior who is leading Conference USA in interceptions this season with four, suffered a torn inferior vena cava during a collision at practice. The inferior vena cava is a vein that carries blood back to the heart via the right atrium.
According to team doctor Dr. Walter Lowe, in a statement on the University of Houston athletics webpage, said that the injury that Hayden sustained, "[H]as never been seen or reported in association with a football injury and is more associated with high speed motor vehicle injuries." Lowe went on to say that the injury is usually 95 percent fatal.
Hayden, while in critical condition, is listed as being alert. He is resting at Memorial Hermann Hospital's intensive care unit.
In a statement, Houston head coach Tony Levine said, "D.J. is a tremendous young man and has been a great asset to our program, both on and off the field. I ask that everyone continue to keep D.J. and his family in their thoughts and prayers….We look forward to supporting D.J. on his road to recovery."
Houston fans are encouraged to send well wishes to D.J. Hayden either through the University of Houston Athletics Facebook page or via email at uhcougarsdotcom@gmail.com.