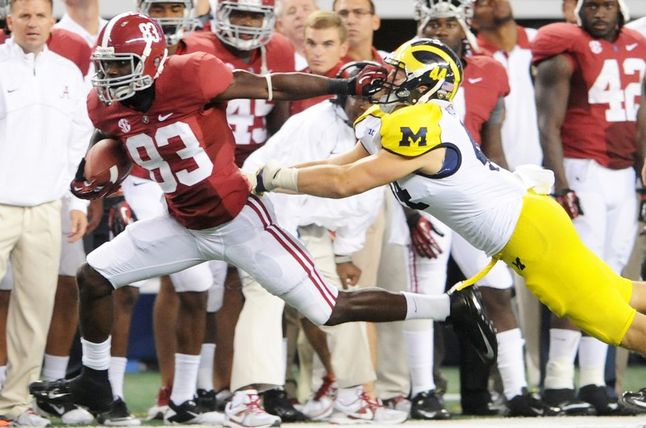 You don't always know what you're going to get from a team during the first week of the season (unless you're Alabama).
But coaches will tell you they expect to see the biggest improvement by their team from the first to the second game.
There are at least 10 teams who need to make a serious statement in just the second week of the season. For some, it's imperative to erase a disastrous first game. For others, it's a chance to show they belong in a new conference.
Here's a look at 10 teams who need to show the college football world something big this week.
10. South Carolina Gamecocks
South Carolina quarterback Connor Shaw earned some mad respect from his teammates during last week's 17-13 victory over Vanderbilt. He took a beating and kept getting up.
It was also nice to see Marcus Lattimore back on the field, but the Gamecocks did not live up to the preseason rankings and must show a different gear this week.
The Gamecocks host East Carolina, who knocked off Appalachian State 35-13 last week. The Pirates have been a tough match up for bigger programs in the past, so South Carolina better be ready.
9. Missouri Tigers
The Tigers make their SEC debt at Faurot Field against SEC-East favorite Georgia. Of course, Missouri has been a relatively average program in the Big 12 so naturally the players believe they are ready to take on the big bad SEC.
Missouri defensive tackle Sheldon Richardson has already dissed this week's competition by saying watching Georgia football is "like watching Big Ten football. It's old-man football."
Maybe Richardson should remember that when Georgia quarterback Aaron Murray starts throwing the ball Saturday.
This game is Missouri's first impression to its fellow members, so the Tigers need to make a statement.
8. Stanford Cardinal
We knew the post Andrew Luck era was going to be tough, but we never thought it would be this bad.
After jumping out to a 17-3 halftime lead, Stanford was outscored by hapless San Jose State 14-3 in the second half. Seriously, a 20-17 win over SJSU? It could be a long season in Palo Alto unless the Cardinal show us something new this week against Duke.
Actually, unless it's a blow out, I think Stanford will still have more questions than answers.
7. California Bears
At least Stanford didn't pull a Cal.
Unveiling a newly renovated stadium, the Bears played about as flat as any team could despite having all kinds of reasons to be pumped against Nevada. Instead, the Wolfpack pulled out a 31-24 win, placing Jeff Tedford on top of the hot seat lists everywhere.
The Bears definitely need Zach Maynard to play up to his potential and that should happen against Southern Utah.
6. UCLA Bruins
Give UCLA credit for disposing of Rice 49-24 last week in Jim Mora's first game after taking over for Rick Neuheisel.
But now the Bruins need to show everyone they can play with a ranked program like No. 17 Nebraska. UCLA gets the Cornhuskers in the Rose Bowl, a site Nebraska would like to be playing in January.
If Johnathan Franklin can put up another 200-yard rushing performance and Brett Hundley proves he's the answer at quarterback then we could be witnessing the resurgence of UCLA football.
Seriously, stop me.
5. Arizona Wildcats
Rich Rodriguez-coached teams never fair well in the first season. At least Arizona opened with a 24-17 victory over a dangerous Toledo team.
Now it gets real as Oklahoma State, which scored 84 points last weekend, travels to the desert.
The Cowboys are certain to test Jeff Casteel's 3-3-5 defense, but it will be interesting to see what he has in store for freshman quarterback Wes Lunt.
If Arizona pulls the upset and gets to 2-0, Rodriguez may be on the road to a winning season in his first year.
4. Texas A&M Aggies
Texas A&M had been a relatively average team in the Big 12 for the past decade, and now we're supposed to think moving to the SEC was a good move?
The Kevin Sumlin-coached Aggies can make a serious statement this week by knocking off Florida. A&M will have a serious home-field advantage as the 12th Man is certain to make its presence known in this historical game.
But the bigger question is: Will the Aggies show up and be ready to play?
If not, even an average Florida team could put a whipping on A&M and give us a glimpse of the Aggies future in the SEC.
3. Auburn Tigers
In fairness to Auburn, the Tigers looked much better than anything we saw last year. But in the end, it was still a loss to Clemson.
This makes it tough to see how Auburn can be considered a serious SEC contender in 2012, but the Tigers need to avoid a 0-2 start and remain relevant in the conference.
That starts with a road game against Mississippi State, who opened with an easy win over Jackson State.
2. Pittsburgh Panthers
Just two weeks ago I predicted that Pitt, under first-year coach Paul Chryst, could make a run at the Big East championship.
Hell, now it looks like the Panthers can't even compete in the Missouri Valley Conference.
After a huge loss to Youngstown State in the season opener, Pitt must now travel to one of the best in the conference — Cincinnati — on Thursday.
I still believe Chryst is a great fit at Pitt and he will get this thing turned around, and he might be better off going with more young guys to get ready for the move to the ACC in 2013.
1. Michigan Wolverines
We all witnessed the mugging Michigan endured at the hands of Alabama, and it didn't take long for the haters to start chirping.
There isn't much a UM fan can say to argue against it. The Wolverines are not in the same class as Alabama, and it's hard to see how Michigan is even in the Big Ten title chase.
But Brady Hoke's squad can help ease the pain and rebuild some confidence with a big outing against Air Force in the Big House.