One man.
One man can make a difference.
In November of 2008 high school senior Manti Te'o made his official visit to Notre Dame to watch the Fighting Irish play Syracuse. Te'o, a Hawaiian native, was ill-equipped, in terms of outerwear, to face the elements: temperatures in the 20s and the remnants of a blizzard from one day earlier lining the field.
Notre Dame was even less well-equipped to face the Orangemen, who were 2-8 and had already fired coach Greg Robinson the week before. The Irish managed just 41 yards rushing and lost 24-23, their own students pelting the Notre Dame players with snow balls at the end of the season finale.
As one story on AOL News led, "Notre Dame has had some bad losses in Charlie Weis' tenure. This was the worst."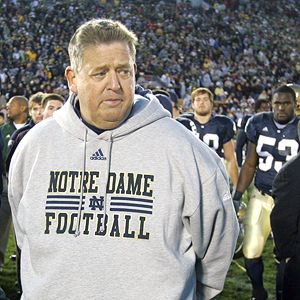 This was the nadir, and anyone with half a mind assumed that Te'o, the most coveted defensive recruit in the nation, was headed to either USC or BYU. After all, the Irish had not finished higher than 42nd in scoring defense in Weis' four seasons and had not beaten the Trojans.
But then a miracle happened –and after all, the school is founded on a miracle worker – when Te'o announced that he was headed to Notre Dame. Te'o, in fact, proclaimed the name "Charlie Weis" before saying "Notre Dame" when he made his announcement.
Give Weis that much: He induced Te'o to matriculate at Notre Dame.
Four years later the Irish have the No. 2 scoring defense in the land, second only to Alabama, which has to this point played a much softer schedule. Te'o leads the fifth-ranked Irish into Norman tomorrow with both a path to the national championship and the Heisman Trophy on the line.
Te'o, perhaps as much as Brian Kelly, has changed the culture at Notre Dame, where under Weis the Irish players were robotic and the culture was to simply try to outscore or outsmart their opponents. Under Kelly, who turned 51 on Thursday, and Te'o, Notre Dame plays with passion and loses few battles at the line of scrimmage. Just ask Stanford.
It is more than symbolic that the final defensive play of the Weis era – and of Te'o's freshman season – was matador defense. The Irish were at Stanford, the score tied 38-38 with just a minute remaining, and Cardinal rusher Toby Gerhart was simply owning Notre Dame. Weis made the decision to allow Gerhart to score with :59 remaining, rather than simply suffer a final minute of Stanford positioning itself for a chip-shot field goal. Weis already knew that he was out at Notre Dame and so he took this gamble – why blame him? He knew that his two best players were quarterback Jimmy Clausen and wideout Golden Tate, and his thought was, Why not give them a chance to win the game?
Gerhart scored. Clausen and Tate came up short on the game's final drive. The Irish lost 45-38.
In Brian Kelly's two-plus seasons in South Bend, Notre Dame has not yielded more than 37 points. Weis teams allowed 38 or more points 10 times in five seasons.
The presence of Te'o, not to mention the insuperable recruiting efforts of Kelly and defensive coordinator Bob Diaco, helped land a windfall of defensive studs: nose tackle Louis Nix, defensive ends Aaron Lynch and Stephon Tuitt, and linebacker Ishaq Williams. Lynch may have been the most gifted player in the bunch, a freshman first-team All-American last season, but he chose to return home to south Florida and is now enrolled at USF.
The Irish defense has yielded just two touchdowns in the past five games, both of them last Saturday versus BYU. Te'o, seemingly every other day, is profiled by some national site or magazine, in stories that showcase his extraordinary gifts on the field and his magnanimous side off it. He is truly what not just Notre Dame, but what all of college football, aspires for its players to be.
All that you need to know about how much the culture at Notre Dame has changed since Te'o's initial visit on that awful weekend in 2008 is this: last winter the Irish signed arguably the top prep quarterback in the nation in Gunner Kiel. To date this fall you have not heard a word about Kiel, who is redshirting.
This season in South Bend, for the first time since the Lou Holtz era, it's about the defense.
One man can make a difference. One Manti.