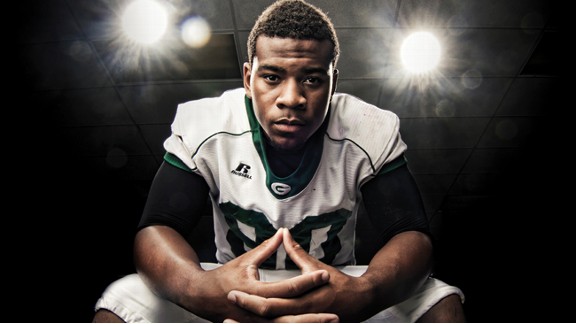 It's my party & I'll bring who I want?
The name Robert Nkemdiche should be a familiar one to most college football fans, he's the nations No. 1 recruit according to most people that rank those sorts of things. He's also either a genius or a complete extortion artist according to most after some comments made to the Atlanta Journal Constitution. Our own Aaron Torres already took up that topic earlier today.
But there's a few more buring questions…. So we went all sorts of "Meeting of the Minds" on you so that we could tackle those questions, questions like: Is there something unseemly about these package deals, either on the side of Dabo Swinney or Nkemdiche? More importantly, are these package deals a smart move by programs?
Here's what came out of this "Meeting of the Minds."
David Purdum: I don't find anything unseemly about package deals from either side. But, from a program perspective, I would be hesitant to use too many scholarships on players that I didn't believe would be able to contribute in order to land one player.
Nkemdiche is asking for three of his buddies to receive scholarship offers, the last being an undersized safety with only one offer from a BCS school (Ole Miss). That seems like a lot, possibly too much, to give up for a defensive lineman whose impact can be limited by offensive scheme.
Michael Felder: It boils down to a simple cost-benefit situation. How much are you willing to give up to get him? If you look at the situation: Kamara and Gallman are worthy of Clemson schollies, period. The preferred walk-on spot hurts them in no way. So basically this is a one possible throw away scholarship to get the best defensive player they've had since DaQuan Bowers enrolled. It isn't a big risk and it most certainly is not unseemly, especially since Clemson and Dabo have a choice.
They can always say no. That's what Butch Davis said to Robert Crisp, a offensive tackle from North Carolina who wanted a close teammate to be in the fold with him. Davis lost out on Crisp because NC State happily obliged on the package deal.
Nick Saban ain't offering all these kids to get one kid. It is not worth it to him. For Clemson and Dabo Swinney it most certainly is worth kicking the offer out there. It's one possible throw-away, not a class killer in the grand scheme of things.
Kevin McGuire: I am not totally against the concept of a school handing out a package of offers to high school teammates, just as long as it is with merit and those players are deserving or legitimately fill a need for the program. It is not a new concept of course and it certainly will not go away, but just how far will this go? If you are Dabo Swinney, or any other coach partaking in this sort of recruiting,
you have to be prepared to have the plan fail on you in a couple of ways. What happens if Nkemdiche turns out to be a dud, and his high school teammates are not much better? All of a sudden Clemson has offered not just one failed prospect, but four or five. That can really bring down a recruiting class quickly (Please note I am not suspecting that would be the case here, just speaking in hypotheticals).
Worse yet, what happens if Nkemdiche is lured away late by another program? What happens if a rival swoops in with a similar package offer? That puts Clemson's recruiting back a few steps and in need of filling some holes later in the recruiting game. I generally do not think it wise to place all of your eggs in one basket when it comes to recruiting, even if it means bringing in the top player in the country. I just feel that there is more of a downside to the practice than upside, but every example could yield different results. We'll see how it unfolds at Clemson.
Allen Kenney: Man, guys, I feel like it's a new day for college sports fans. Nobody has jumped in yet with some lame-ass junk about Nkemdiche being a prima donna or "kids these days are out of control!"
Personally, I love this move by Nkemdiche, who clearly knows how to work this game. Note that he doesn't even say giving his friend a scholarship is a make-or-break deal for Clemson, just that it would solidify the make part of that equation. And, honestly, there's no real risk for him in the long run, because he essentially has a standing offer from every school in the country. He could leave Dabo Swinney high and dry whenever he felt like it.
If I'm Swinney, my biggest concern here is that if I don't do this, I bet someone else will. For a guy like Hugh Freeze at Ole Miss – a school that Nkemdiche has expressed interest in in the past – a five-for-one deal to land the top recruit in the country is a pretty easy call, especially given that two of the other guys involved could almost certainly contribute. Don't be shocked if Nkemdiche gets his wish here.
Andrew Coppens: I'm pretty indifferent to this situation. Honestly, good for the kid and his buddies if he can take one along for the ride. The onus is on Dabo and if he thinks landing the No. 1 ranked recruit in the country is worth the extra offer. If so, then go for it. It's on him to make the right decisions for the program after all, so I doubt he'd do it just because.
We've already pointed out that two of the other guys are legit prospects, so reaching on one may not be the worst thing ever. Look at how many "under the radar" recruits have turned out to be great players all over the country. You just never know.