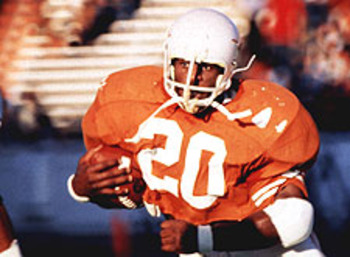 All I expected was an autograph from Earl Campbell, the 1977 Heisman Trophy winner at Texas.
But after signing my full-size Heisman helmet during a special autograph show in Canton, Ohio, during Hall of Fame festivities, the Tyler Rose was in a chatty mood.
When you spend good money for a signature there's nothing you love more than a player who doesn't mind talking about his playing days and more.
I've had others who were fun to meet and talk with. There was Pitt's Tony Dorsett and his "fond" memories of playing in Morgantown. I also had a nice convo with former Oklahoma star Steve Owens about Sooners football and the college game in general.
Saturday was filled with enthralling conversations with some of football's greats.
I had a five-minute chat with former Missouri tight end Kellen Winslow. After I told him I still get depressed every time I think of his son making a huge catch on fourth-and-13 that helped Miami knock off my Mountaineers, the elder Winslow just beamed with pride. He then went on to talk about how if Brock Berlin had made a better throw it would have resulted in a TD.
Then I talked WVU football with former Mountaineer great Sam Huff, who isn't sold that the move to the Big 12 is in the best interest of the fans. "How is anyone going to be able to travel to those away games?" he asked. He hopes WVU considers more games at FedEx Field in the DC area.
As the day came to end, though, nothing topped my talk with Earl Campbell.
I had heard from others who had encountered Campbell that didn't enjoy engaging with fans, but it was far from the truth on this day. He admired some of the other autographs (most notably Archie Griffin), and then wanted to talk college football.
When he saw I was wearing a WVU polo, Campbell asked me: "Do you think there's any chance you guys could send us a quarterback?"
Campbell said he's not a fan of Mack Brown's plan to platoon David Ash and Case McCoy this fall.
Campbell also expressed his admiration or WVU coach Dana Holgorsen and the Mountaineers' chances in the Big 12.
The conversation was relatively superficial, and I wish I had asked him about tear-away jerseys and what it was like to win the Heisman. But it was still a great day to meet and chat with one of the game's all-time greats.
Thanks for the memory, Tyler Rose.