Personally, I don't know what these guys were thinking but Allen must of shipped the Crystal Ball to the wrong address or they have way too much faith in their rookie. Either that or it's their cruel way of hazing me as they sit back and laugh as strange things happen to me with it in my possession. No matter how it happened though I'm in possession of our magical and mystical crystal ball this week, so I'm going to run with it.
I'll admit, after some ALC (Allen Loving Care) last week the crystal ball has been doing some strange things and it's spit out some unexpected games and their winners to me this week, so we might as well share them with the rest of the college football universe, right?
Stanford at Cal
A reeling Stanford team vs. a Cal team fighting for their coach's life, what more could you want?
Well add in a bit of the Pac-12's most bitter rivalry and you've got a recipe for a heck of a football game. One that also may be very important to the grand scheme of things in the middle of the Pac-12 (pun intended).
The Cardinal come in sporting what should be a 4-2 record thanks to an already predicted 38-17 loss at the hands of the Men of Troy and another predicted loss the week before to rival Notre Dame. Hey, at least that's what the crystal ball told me after unpacking her from Allen. In fact the first thing she said to me was "How 'bout them Irish, eh? Seriously I told him all about it and how Notre Dame would take the Luck-less Cardinal down a peg or two at home."
But I digress… This is the 2nd rivalry road trip for Stanford and a win here would help propel them back to winning ways. A loss at Memorial Stadium could see their season start to take a downward spiral quick and prove to the nation that they aren't anything without Luck.
The home Golden Bears don't nearly have it as rough heading into this game, but they will be coming off what could be a trap game in Pullman, WA versus Mike Leach and the Washington State Cougars. They should be coming off a win because as much of a Pirate as Mike Leach is he's also dealing with one of the harshest rosters in the Pac-12.
That darn lady tells me this game comes down to Zach Maynard vs. Brett Nottingham and that the home team won't lose the first "The Big Game" at the renovated Memorial Stadium. So, after rubbing the crystal ball it spit this out at me:
Cal 34, Stanford 28
South Carolina at Florida
It's the tail end of a brutal stretch for the Old Ball Coach and his Gamecocks and the good ole crystal ball has been a bit of a mixed bag for the other USC on their three game stretch of Georgia, LSU, and now Florida in the middle of the season.
They enter this game with a win over Georgia (24-13 by our trusty & increasingly strange crystal ball) and an oh so close loss to the Bayou Bengals (24-20 to LSU by our crystal ball).
Florida really could use a win over a school at the top of the SEC East if it's truly about to be on it's way back to supremacy and what better way than to take their old coach down a notch or two.
But in the words of Lee Corso "Not so fast my friends."
The gamecocks aren't your brothers/sisters Gamecocks anymore.
South Carolina 28, Florida 20
Michigan State at Michigan
The Maize 'N Blue were frontrunners in the preseason polls, but two losses (vs. Alabama and @ Notre Dame) have the Wolverines primed for the battle against "little brother" Michigan State at the Big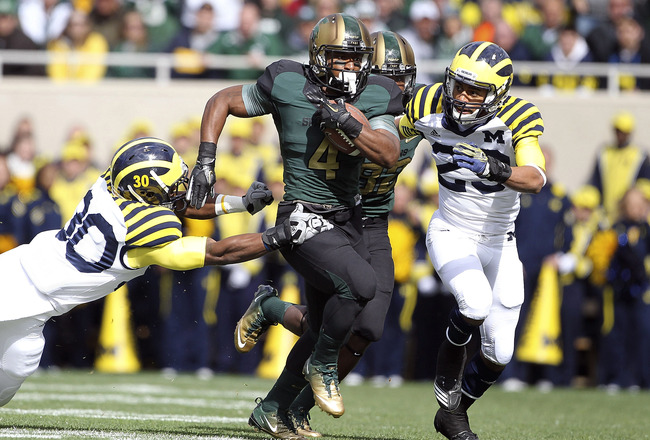 House.
Last season saw one of the nastiest games played between these two long standing rivals and the 2012 version could have major Big Ten Legends division implications as Michigan State comes in 6-1 (losing only to Ohio State).
Mark Dantonio won't let you or Michigan forget who's boss in the series right now, as the Spartans own a four game winning streak against th Wolverines.
In a battle of Denard Robinson's arm vs. Andrew Maxwell's arm the Spartans continue to be a thorn in the side of the Wolverines taking a not-so close one according to our crystal ball (I'm seriously doubting this woman's sanity at this point).
Michigan State 38, Michigan 17
Virginia Tech at Clemson
Wow, a regular season preview of the ACC title game perhaps? That's what both teams are hoping for and according to our trusted friend the crystal ball the loser could well be out of the race entirely.
Especially if you're name is Clemson as they've already got a loss to ACC favorite FSU on the books (31-27).
Interestingly Va Tech doesn't come in blemished either as that fine lady in the crystal ball told me they lost to North Carolina just a few weeks ago… She sure is a strange one, huh?
Clemson has more than enough offense and a heck of a strong defense as they handle a Va Tech team that isn't quite ready for prime time thanks to an offense that replaces all but three starters.
Clemson 41, Va Tech 27
Bonus Game:
Kansas State at West Virginia
I seriously thought the old lady in the crystal ball was all done, but she coughed out another prediction for me just as I was about to send it on to the next poor schlep to get this broken down thing and she told me that Kansas State wasn't for real in 2011, they we're playing a trick on all of us last year and the Mountaineers prove they belong in the Big 12 in a big way.
West Virginia 49, Kansas State 24