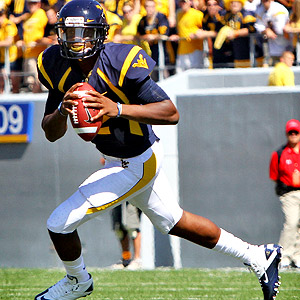 For the better part of the past seven months, all West Virginia fans wanted to talk about was how the Mountaineers scored 70 points against Clemson in the Orange Bowl.
That near-flawless performance is what everyone expects from Dana Holgorsen's offense every week.
Well, the Mountaineers delivered a 69-34 win over Marshall in the Friends of Coal Bowl in Morgantown Saturday. If not for a missed extra point by Tyler Bitancurt, WVU would have enjoyed back-to-back 70-point games.
Now Marshall's defense will not be mistaken for Texas or Oklahoma, but quarterback Geno Smith showed why he's considered a Heisman contender this fall. The senior was almost perfect — completing 32 of 36 passes before sitting out most of the fourth quarter.
In typical Holgorsen fashion, the Mountaineers never let off the gas as they 655 total yards in improving to 12-0 against the Thundering Herd. You can't overlook the impressive running attack either, which was lacking in Holgo's first season. Shawne Alston and Andrew Buie combined for 203 yards on the ground.
Nothing the offense accomplished Saturday was a surprise. If WVU is going to make a serious run at the Big 12 championship in its first year in the conference the defense is going to have to improve.
While it's easy to criticize the unit for allowing Marshall to score 34 points and gain 545 total yards, you have to look past the box score on this one. For starters, 14 of Marshall's points came during "garbage time" when the starters — for the most part — were off the field.
There's no question the new 3-4 defense must get a lot better by the time the Big 12 schedule starts, but there were some positive signs.
The defense swarmed to the ball and didn't miss many tackles. You get the feel that Joe DeForest's defense is going to be a "bend but don't break" group. DeForest is a Big 12 guy and he understands what it takes to get the job done in WVU's new league. He has a lot of athletes on the defensive side and will get them ready.
As far as openers go, getting 69 points against a legitimate contender in Conference USA is not a bad day.