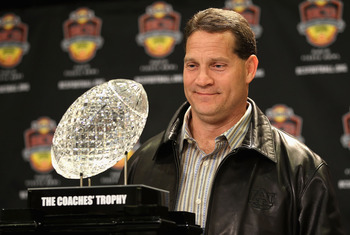 Has there ever been a team with more expectations because of their rival than that of the Auburn Tigers? It seems like ever since the beginning of the Iron Bowl Auburn has become a team obsessed with keeping up with the Joneses of the SEC West, you know… The likes of Alabama and LSU. It's what got Tommy Tuberville fired…. errr, to resign and it's what got current head coach Gene Chizik a less than warm welcome from Tiger boosters and fans when he was hired prior to the 2009 season thanks to a spotty at best record in his two year stint at the helm of Iowa State.
We all know about the national title in 2010, the perfect season that saw the Tigers take down their hated Iron Bowl rivals along with Kentucky and Oregon in dramatic fashion to win the BCS National Title. But that has been sandwiched by two 7-5 seasons and a huge increase in the profile for their hated rivals, Alabama. No War Eagle fan likes taking a back seat to 'Bama to say the least, so entering the fourth season of the Gene Chizik era is it fair to start asking if the Tigers can keep up with the Joneses, or was 2010 a complete anomaly? Is the pressure really starting to mount for a coach that has a 30-10 record in his stint at Auburn? Or are expectations too high based on one magical season in Auburn, AL?
They are all fair questions and ones that many Auburn faithful have been asking all along. The chorus of boos and whos upon Chizik's hire (5-19 in two seasons at Iowa State) could be heard well into the beginning of the 2010 fall camp as he made just a small two win improvement in the 2009 season over what Tuberville produced in his final year at the helm of Auburn.
But Chizik brought in a top 5 recruiting class for the 2010 season and optimism became much higher. He brought in a guy by the name of Cam Newton to quarterback his team and along with a feared defensive effort the Tigers took the 2010 National Title, virtually out of nowhere as they came in ranked just 22nd in the nation in the preseason AP poll and 23rd in the coaches poll.
Newton combined with offensive coordinator Gus Malzahn to form one of the more effective and scary offenses in America. It led Cam Newton to the Heisman Trophy and the No. 1 overall pick in that next spring's NFL draft along with many other awards for his performance during his one season in an Auburn uniform.
Last season was clearly a rebuilding year for them, having to try and replace a once-in-a-lifetime QB like Newton and a ton of the defensive talent from the national championship year. However, they regressed from 14 wins to just half of that in going 7-5 during the regular season. To be fair, four of their 5 losses were on the road to the likes of Clemson, Arkansas, LSU, and Georgia – not exactly the slouches of the college football world. However, that fifth loss was at home to the eventual national champion Alabama Crimson Tide. Losing that game sticks in the craw of many a Tigers fan to say the least, but getting absolutely crushed by your rival is totally unacceptable in those parts of the country and that's exactly what happened, losing 42-14 at home to the Tide.
So, entering 2012 the questions are mounting and pressure is on for Chizik to start winning and winning now. Let's start by examining the record of his predecessor – Tommy Tuberville. He spent 10 seasons in Auburn, compiling an 85-40 overall record, winning 1 SEC Championship, 5 SEC West division crowns, and had a perfect 2004 season (and a disputed 2004 national championship). Yet, just four years removed from that season Tuberville found himself in a world of controversy and with a new AD in town he resigned before being fired after a 5-7 losing season.
Then look back at the Terry Bowden situation before Tuberville. He was just one season removed from the SEC championship game and while the team was 1-5 at the time of his resignation he wasn't given much leash to remedy what some saw as "poor recruiting" and a faltering relationship with UA administration.
Clearly there's a history at this school of not exactly having the most patience in the world when it comes to their head coaches. That's not to say Chizik is in the same spot as those two men were in their careers, but it illustrates the point that Auburn is obsessed with keeping up with the Joneses of the SEC and won't tolerate not being one of them for very long.
On the recruiting front the Tigers have been more than able to keep up with the Joneses of the SEC, hitting on three straight top 10 recruiting classes as we stated before. But, it's time for all that talent to start producing in an Auburn uniform.
2012 could be a much different season for the Tigers, especially on the offensive side of the ball as gone is former prized RB Michael Dyer – who was off to Arkansas State with Gus Malzahn before not being admitted to the university. This team needs to get a solid running game from Senior Onterio McCalebb and talented but inexperienced sophomore Tre Mason because the QB play will be inexperienced at best to start the season and the pressure needs to be off of the winner of the battle for the QB1 spot.
Quarterback play will be key and all indications are pointing to the likely starter being Kiehl Frazier, just a sophomore, but a player new offensive coordinator Scot Loeffler has guided well in his year and a half around the program. Frazier was brought in because he had been groomed in the system handed down by Malzahn but it's actually Loeffler who's helped him the most at Auburn. Getting him to stop throwing to the other team is going to be key. In 2011 Frazier saw limited playing time, going just 5-12 (41%) and throwing for 2 interceptions while also rushing for 343 yards (3rd most on the team) and 3TD's.
The issue could be Auburn's offensive line. It was young and inexperienced last year and that cost them big time as they struggled to find any rhythm from time to time. 2012 looks to be more of the same as they could be starting four underclassmen, including a freshman along the line. Without this group stepping up it won't matter who's behind center – I mean seriously, have you seen what the defenses of LSU and Alabama look like?
The defense has great potential as well as they welcome in a brand new coordinator as well in Brian VanGorder. They return 9 starters from a unit that was inexperienced and undermanned at times last season. The line will be much deeper and more aggressive under VanGorder, but it needs to also show it's learned it's lessons from what was a very harsh wake up call for a young defense last season.
The schedule does a bit of a favor for the Tigers as Clemson, LSU, Arkansas, Texas A&M, and Georgia all must pay a visit to Jordan-Hare Stadium this fall. If they can win at least three of these games this team could be heading in the right direction after all.
So, we must end by asking what Auburn team can we really expect to see? Can we see a team capable of being more than a 7-5 or 8-4 team? The talent it certainly there and we'll see if two new coordinators can help the young talent on the roster. If not? Well, the hot seat may pay a visit to Gene Chizik – whether that's fair or not is up for debate. What we do know is in the world of the SEC and especially the world of Alabama vs. Auburn, it's all about keeping up with the Joneses and if you can't do that it's time to say goodbye. It's a harsh reality of life in the modern SEC.