Week 1 saw a ton of upsets, too bad they were more of the FCS over FBS variety than of the BCS Buster variety. Yes, we're looking at you Boise State, thanks for nothing last week.
However, as we move forward the landscape of the BCS Buster changes a lot thanks to two massive divisional matchups in the MAC and Mountain West conferences. The winner has a great opportunity to be a contender and a potential BCS Buster down the road, but the loser will have some serious trouble climbing up the ladder of the division and the conference.
Oh, and can Western Kentucky make it back-to-back weeks over the SEC East? We answer that and much more with our six games to watch. Come inside and see what games have the biggest effect on the non-BCS AQ schools and conferences.
Bowling Green at Kent State (Saturday, Sept. 7 at noon ET on ESPN3): This is the MACtion opener for two preseason division title contenders. So, ya, this one is important. The Falcons are coming off a hugely impressive defensive effort in taking down Tulsa last week. Can they do it against the Rockets on the road? Their chances sure would go up if Kent State star running back Dri Archer isn't available to play, thanks to an injured left ankle. The winner has a clear leg up in the East Division race and ultimately I think you see defense win out in this one, even if Dri Archer plays. Give me Bowling Green in a mild upset on the road.
Predicition: Bowling Green 29, Kent State 20
Western Kentucky at Tennessee (Saturday, Sept. 7 at 12:21pm ET on ESPN3): It is safe to say the SEC doesn't scare Western Kentucky and it sure as hell doesn't scare Bobby Petrino. The Hilltoppers took down Kentucky last week, but Tennessee is a whole different animal to say the least. This is once again a very interesting coaching matchup as Petrino takes on Tommy Tubberville. Last wee the Vols blanked Austin Peay, but that team is an awful FCS team, so how much do we really know about the Vols in year one of the Tubberville era? Not much really. Western Kentucky may be better than most expect, but it's hard to see them going into Neyland Stadium and pulling out this one. It will be closer than then 13.5 point spread Vegas has this game at.
Prediction: Tennessee 33, Western Kentucky 27
Utah State at Air Force (Saturday, Sept. 7 at 3:30pm ET on CBS Sports Network): Was there a more entertaining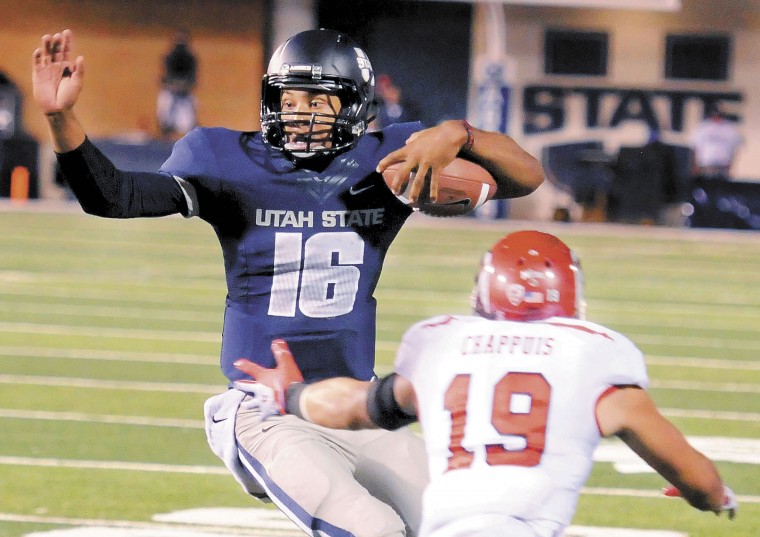 game in Week 1 of the college football season than Utah State at Utah? Honestly, outside of maybe Georgia at Clemson it was. Chuckie Keeton cemented himself as one of the best and most entertaining quarterbacks in the country. Too bad the Aggies couldn't find a way to win last week. Now, they must turn their attention to a massive early season Mountain West Mountain Division matchup (I know, confusing, right?). Air Force is a sneaky good team and it has historically been the best of the service academies over the past 30 years or so. The biggest question in this one is if Utah State can handle the wishbone rushing attack the Falcons put on the field. Last week against Colgate the Air Force nearly put three RB's over the 100 yard mark and Jon Lee is a very underrated running back. On the flip side it's hard to see the Falcons handling Chuckie Keeton very well. Give me the Aggies to get back on track and show that they will be a true contender to Boise State in the Mountain Division of the conference.
Prediction: Utah State 33, Air Force 20
Louisiana at Kansas State (Saturday, Sept. 7 at 7:30pm ET on FoxSports1): Did the Bison wake up the Wildcats or will they fold it in? That is the question that faces Bill Synders crew after they literally couldn't stop what everyone knew was coming in losing to FCS foe North Dakota State. If they wake up they'll still see a tough test from the Ragin Cajuns, who played some pretty good football in a 34-14 loss at Arkansas the week before. K-State isn't Arkansas, and I fully expect Terrance Broadway and Jacob Maxwell to give the Wildcats defense fits. On the other side of the ball the question is if Louisiana can find a consistent enough push up front to disrupt what K-State likes to do. Ultimately, I expect this game to be another close one in Manhattan.
Prediction: Kansas State 33, Louisiana 27
Colorado State at Tulsa (Saturday, Sept. 7 at 7pm ET on CBS Sports Network): These two teams took vastly different paths to losses last week and both really could use a win now heading into difficult matchups coming down the road. Colorado State looked decent at times in their Rocky Mountain Cup loss to the Buffs, while Tulsa looked all sorts of bad against the best defense the MAC has to offer in Bowling Green. Will CSU's offense be able to exploit Tulsa's defense or will Tulsa's offense get it together after being held to all of six points last week? Those are the biggest questions in this one. The Golden Hurricane is at home in this one and at the end of the day I think you see Cody Green be the dual-threat we all know he can be in the very untraditional sense.
Prediction: Tulsa 31, Colorado State 20
San Jose State at Stanford (Saturday, Sept. 7 at 11pm ET on Pac-12 Network): Stanford wasn't part of the opening week party and that could be interesting given the fact that San Jose State does have a game under their belt. Add in the fact that San Jose State was perhaps the 3rd best team in the state of California last year (Yes, USC fans I just said that) and you have some interesting things to think about in this Bay Area matchup. It will be a fun QB battle to say the least between the host Kevin Hogan and the visiting David Fales. However, don't sleep on Jason Simpson, who ran for 135 yards in a 24-0 win over Sacramento State last week. Of course, Stanford's defense is a vastly different animal and if the Spartans are going to keep this close it will be on Fales to do that. I just don't see an upset here, but I do see this game giving San Jose State a lot of national respect as they play Stanford very tough for at least three quarters.
Prediction: Stanford 44, San Jose State 31
You can follow more of Andy's thoughts on all things non-BCS by following him on Twitter @andycoppens.
Don't forget to follow us on Twitter, Google +, and Facebook too.