No. 11 Florida State at Pittsburgh
Monday, 8:00 p.m. EST, ESPN
Line: Florida State -10.0
Pittsburgh has replaced all of the old Big East logos with ACC logos and the Panthers believe they have joined the big time. However, Pitt didn't win much as members of the Big East so there's no reason to get too excited about this squad.
Pitt lost its season opener last year to Youngstown State, so something tells me Paul Chryst's team better be more prepared for Florida State. Giving the Panthers a nice opener like this was nice of the ACC as Panther football at Heinz Stadium is truly an afterthought to almost anyone around the Pittsburgh area.
This is the lone game on Monday and is definitely worth watching and a great way to end the long opening weekend.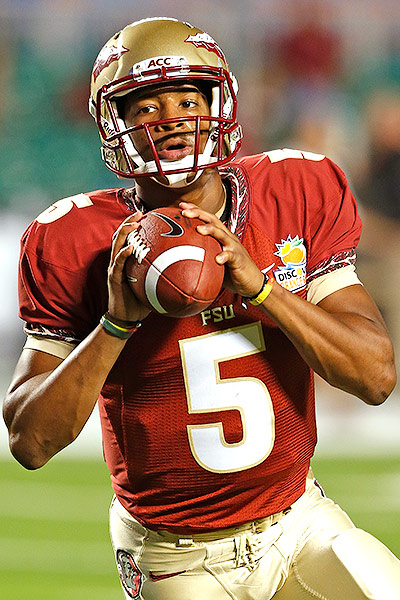 For Florida State to win: It's simple, the Seminoles have more talent. Heinz Field could be electric if fans decide to pack the place on the first ACC game. If that happens, FSU needs to block out any distractions and just execute its game and win.
For Pittsburgh to win: As bad as Pitt football has been for the past 20 years, the Panthers have pulled off some huge wins. Defense has always been the key to those wins. So Pitt's defense needs to play its best game since it shut down an explosive West Virginia squad 13-9 in 2007.
Key Player (FSU): Dual-threat quarterback Jameis Winston is imposing at 6-foot-4, 227 pounds and has a strong arm. However, he's a freshman and youngsters make mistakes. If he can control his emotions and let the game come to him this could be the start of something really special.
Key Player (Pitt): Much-traveled quarterback Tom Savage gets one final shot to prove he's a big-time performer. As a true freshman at Rutgers, Savage completed 52 percent of his passes for 2,211 yards and 14 touchdowns. His experience and moxie could be just what Pitt needs to pull off an upset.
Key Stat: The Panthers have won the last three meetings between the two schools, but they haven't played since Pitt won 17-16 in 1983.