You know it's officially the offseason when fans and writers go gaga over schedule releases. Yesterday we got the schedules from the ACC and the Pac-12. Well, at least we got the full schedule from the Pac-12. The ACC just gave us the home and away schedules for each team without dates, making it a bit hard to tell you exactly who's schedule is difficult or easy based on how things set up. None the less, there are some juicy matchups to be had in each of these conferences.
What games should you be watching out for in each conference? Let's explore together, shall we?
In the ACC there's no doubt that Clemson vs. Florida State is going to be huge – it has been massive to who makes the ACC championship game for the past three seasons. It's also a matchup of teams that went 12-2 (FSU) and 11-2 (Clemson) last season. True, both teams are going to lose a lot, but if there are two major early front runners in the Coastal division it's these two.
Other than that one, you've got to have the "revenge" game between FSU and NC State circled on the schedule as well. FSU won't be the same team as they were in 2012, but neither will NC State as they will introduce Dave Doeren to major college football as their new head coach. No Mike Glennon for the Wolfpack will also be huge, but Doeren is a strong head coach and the potential of this team has always been there, so it could be a big time game to watch at this early stage of the game.
Then there is Va Tech vs. UNC, Va Tech vs. Georgia Tech, and Va Tech vs. Pitt – all three of those games will go a long, LONG way to deciding if the Hokies are back to their old level of play and who will represent the Atlantic division in the championship game. Georgia Tech went there last season and while they weren't particularly powerful they had enough to beat USC in a bowl game.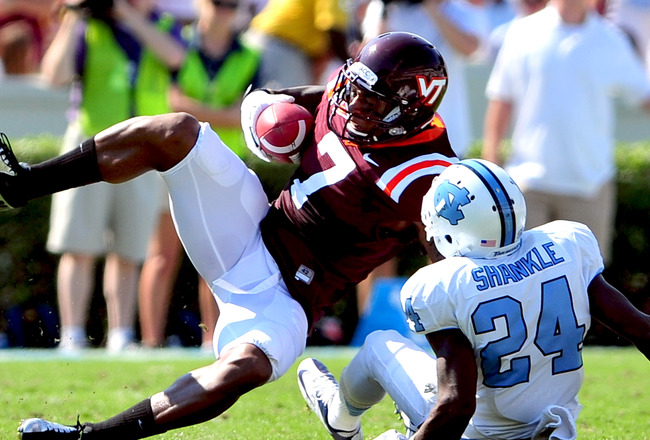 Perhaps the biggest of those games though is Va Tech vs. UNC. Both of these teams have a ton of talent, both returning and leaving to make this game intriguing to say the least. Look for an interesting battle of the QB's in this one as Bryn Renner of UNC showed a lot of talent in 2012 and Va Tech could have Logan Thomas back (as of this writing he has yet to indicate he is leaving). This should be the game that is circled on everyone's calendars in the Atlantic division.
Pitt would be wise to introduce themselves with a huge win over an ACC "powerhouse" in Va Tech if they'd like to leave a mark on their 1st season in ACC play. Coach Paul Chryst had a team that was capable of playing with anyone in the Big Least, but can he up the level of talent and level of play to the ACC quickly? The game against Va Tech will tell him a lot.
While the ACC may have some decent games in 2013, the true fun will be out west where there is a ton of talent and a lot of loaded matchups to be had. So, what weeks give us the best matchups?
Well, we are guaranteed to get some of the best matchups possible late in the season as all rivalry games will be played over the final two weeks of the regular season this year. Of course, some of the biggest games also actually happen out of conference, but that's for another day and time, let's just stick to the conference matchups, shall we?
One of the things we've seen in this schedule breakdown is DAMN does Stanford have a helluva a schedule ahead of them in 2013 and with that it's going to be a challenge to live up to the hype that is already surrounding them. They'll get UCLA, USC, and Arizona State for their cross-divisional games. Can you say OUCH?
However, thy aren't the only ones with tough games, so let's look at the highlights of the Pac-12 season.
Sat., Sept 28 sees a big time south matchup happen between Arizona State and USC. ASU overachieved in Todd
Graham's 1st season and it's safe to say USC's 2012 was a major disappointment. The winner of this one gets a leg up in the battle for the south division and creates their own destiny. The loser could put their season behind the eight ball right out of the gate, especially if you're Lane Kiffin and the Trojans.
The next week sees a big matchup in the North as Washington and Stanford collide The Huskies will be missing their rock in Keith Price at QB, while the Cardinal will be missing their big time RB in Stepfan Taylor and if Stanford wants to live up to the hype it's Rose Bowl win gives them going into 2013 they can't slip up against the Huskies.
Two weeks later it's the first big time cross-divisional game as UCLA takes on Stanford, the 2nd big game the Cardinal will play at home in conference play. Both of these teams showed a lot of promise for 2013 and both could be major players in the Pac-12 so this should be a game to watch.
Following that up will be a trip further north for the Bruins as they take on Oregon. They'll be joined in the big game to watch category by the Cardinal once again who will take a trip to Oregon for a date with the Oregon State Beavers. If the home state teams hold serve it could go a long way to setting these two schools up for a big time date later in the future and both of these games will be fun to watch to say the least.
Thursday, November 7th is a date every college football fan should have a reminder set for as it'll be Oregon vs. Stanford at Stanford stadium. It's safe to say the Ducks will be looking for revenge after being held down last year & ruining their chances of a national championship. Could this one be the decider of the Pac-12 north? It very well could be if you ask me.
Stanford vs. USC the next week continues the Cardinals ridiculous 2013 schedule as they follow up a home date with the Ducks with a trip south to LA to take on the Trojans. This one could have a lot of meaning for both teams or mean nothing depending on which version of USC shows up and if the Cardinal can navigate it's way successfully through an already crazy schedule.
Of course, like we said the traditional rivalries dot the last two weeks of the season like we said before and that means Cal vs. Stanford, the Civil War, Arizona vs. ASU, and the LA showdown all are played in the final two weeks and should be games you'll need to be watching. I have a feeling they all could have big time implications on the Pac-12 races in both divisions.