OK, who messed up the Hollywood sign? Not cool, guys.
Actually, vandalizing the iconic Hollywood sign is kind of cool and something fun for the beginning of 2017. Not that we encourage vandalizing here at The Comeback. Respect public property and institutions, people. Take your vitamins. Stay in school. Don't do drugs.
But Los Angeles residents awoke Sunday morning on New Year's Day to see that the legendary sign had been tampered with.
Someone changed the Hollywood sign overnight. This is real. Staring at it now. pic.twitter.com/HptMzAURla

— Ryan Parker (@TheRyanParker) January 1, 2017
According to KABC, Los Angeles police report that the Hollywood sign was vandalized at approximately 3 a.m. local time by a male suspect. The incident was recorded on surveillance video.
The suspect went up Mount Lee where the sign resides, scaled a fence, and then climbed onto each of the "O" letters on the Hollywood sign. He draped black banners across the right side of each letter and white tarps across the empty middle to make the "O" look like a lower-case "e."
Here is a closer look at what was done.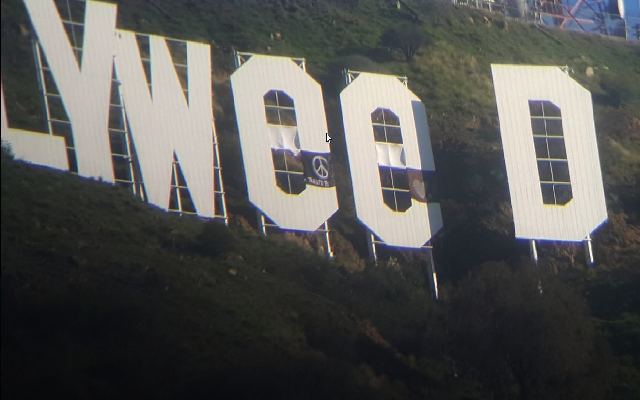 The suspect has not yet been found, according to the LAPD. If arrested, he faces a misdemeanor trepassing charge.
This actually isn't the first time that the Hollywood sign has been vandalized to read "Hollyweed." On Jan. 1, 1976, Danny Finegood draped curtains over the sign as a celebration of California's relaxed marijuana laws taking effect. Finegood tampered with the sign two other times, changing it to read "Ollywood" in 1987 to protest Oliver North and the Iran-Contra scandal and "Oil War" in 1990 in protest of the first Gulf War.
Just over 30 years later, perhaps "Hollyweed" is a tribute to Finegood's original stunt. Recreational marijuana use was approved by California voters in November. Businesses won't be licensed to sell recreational marijuana until Jan. 1, 2018, however, so it could be another year before Hollyweed truly becomes a reality.
[CBS News]