The Frisco Roughriders (Texas Rangers' double-A affiliate) have a pool behind right field at their home stadium, Dr. Pepper Ballpark. Now, they'd like to expand on that pool… and turn it into a lazy river.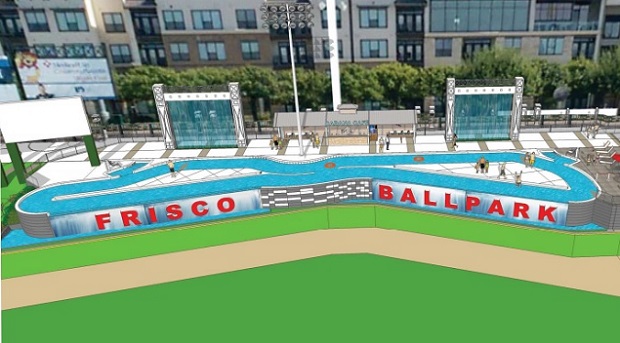 Owners for the minor league baseball team completed nearly $5 million in improvements before the start of last season. Their efforts paid off with record crowds.

They are now looking at phase 2, which calls for revamping the pool area that sits just over the fence in right field. The RoughRiders would also add more protective netting between the infield and the stands.

The idea right now is to take out the existing swimming pool – which is available for private rental – and replace it with a much larger lazy river feature. The design also calls for several cascading water features that will allow images to be projected on them. Early designs also show a new cabana and bar and wood party decks.
Minor league teams are always looking for ways to improve attendance, and usually resort to fun  — frequently wacky — game promotions to do so. But this lazy river idea is unprecedented, and AWESOME.
The Roughriders also have some confidence in knowing their recent renovations have worked out very well, resulting in them winning a Ballpark Digest award, and having seven of their 10 highest crowds ever being in the 2015 season.
Last year's improvements earned the city and Dr Pepper Ballpark the honor of being named Ballpark Digest's Best Ballpark Renovation (Under $6M) for 2015. The improvements included a new video board, upgraded LED signs, a new sound system, a new space for the team store, and a new Bull Moose Saloon in the space previously used for the store.

The team recorded seven of its 10 biggest crowds in franchise history in 2015.
If the Roughriders put in a lazy river, they will quickly set new record-attendance numbers at Dr. Pepper Ballpark, and be on the radar of baseball fans — and just people that like to have fun — across the country.
[Quotes and photos via DallasMorningNews]